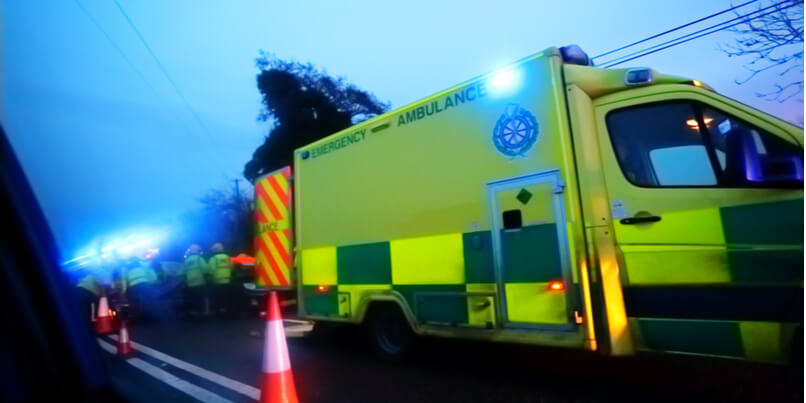 The National Ambulance Service Command and Control Guidance, published in April 2019, brings together lessons learned from recent major incidents and event responses both from within the UK and around the world, as well as drawing on the experiences of its partners in the Police and Fire and Rescue Service.
One of the resounding messages of this document is the vital contribution that command decisions play in enhancing clinical outcomes, increasing survival rates and maintaining first responder safety.
Specialist incident response can often require personnel to operate in highly hazardous areas. It may also include decontaminating of casualties and, in extreme cases, the need to respond to terrorist incidents.
The very nature of complex emergency situations however, is that they are often unpredictable - which can mean that hazards can be subject to change or that risk levels can fluctuate as an incident unfolds.
In particularly challenging emergency environments, the use of a Dynamic Risk Assessment (DRA) can provide invaluable assistance in helping incident commanders to manage the unexpected and to respond quickly to a changing situation.
In contrast to a formal risk assessment which is a fixed document that is prepared in advance, a DRA is a flexible and constantly changing entity that relies on continuous observation, assessment and analysis of the incident scene.
So what are they key stages in carrying out a DRA?
Analyse the situation or task
Step one involves the initial analysis of the situation or task and will be conducted by the incident commander before he or she arrives at the mobilisation point.
In this phase, all known information and intelligence will be assembled and any pre-existing plans and procedures will be pulled together.
It is not until the Commander arrives on site however that it will be possible to fully gauge the nature and severity of the incident and to identify the specific hazards or risks that are unique to that environment.
Select a safe system of work
The second stage in carrying out a DRA is for the incident commander to select a safe system of work, or course of action, which will be informed by the Hierarchy of Control (ERICPD):
Eliminate - to remove or replace the hazard
Reduce - to decrease the level of risk by reducing the nature of the hazard
Isolate - to isolate the hazard from the people (or the people from the hazard)
Control - to control exposure to the hazard by restricting access and limiting exposure time
PPE - to issue Personal Protective Equipment
Discipline - to ensure that all personnel are following safe systems of work
The system of work will take into account the availability of resources (equipment, appliances, PPE etc) and will require the allocation of key roles to appropriately trained personnel.
A decontamination response, for example, may well require the specialist input of trained CBRNe responders, as well as access to suitable Personal Protective Equipment (PPE) and decontamination facilities.
Dynamically assess the system of work
Once a safe system of work has been agreed, it is important to continue to continuously assess that system to ensure that the benefits of carrying out the task remain proportional to the risks involved.
This will also determine whether it is safe for the crews to work inside the hazard area (in offensive tactical mode) or outside of the hazard area (in defensive mode).
The tactical mode may also be subject to change in response to the changing nature of the hazard or risk.
Review
The effectiveness of a DRA is dependent upon its constant review.
Just as an operational incident will progress and evolve, so too will the hazards and the level of risk associated with it.
An increase in risk level, for example, may indicate the need for additional back-up or specialist assistance.
In complex emergency situations the incident commander has a crucial role to play in quickly and safely determining all the hazards that may pose a threat to rescue teams, co-responders, casualties and bystanders.
A Dynamic Risk Assessment facilitates a flexible plan of action that can continuously respond and adapt as the hazard environment evolves, to enable changes of plan to be put in place with minimal delay.

It is important to consider how this plan fits within the incident commander's operations. Equally crucial is training within the Dynamic Risk Assessment's confines, so that when real situations occur, commanders will have applied experience with the action plan. With this in mind, Argon has compiled a guide to HazMat safety training, which explores a variety of training methods in practice. Click here for a free download.