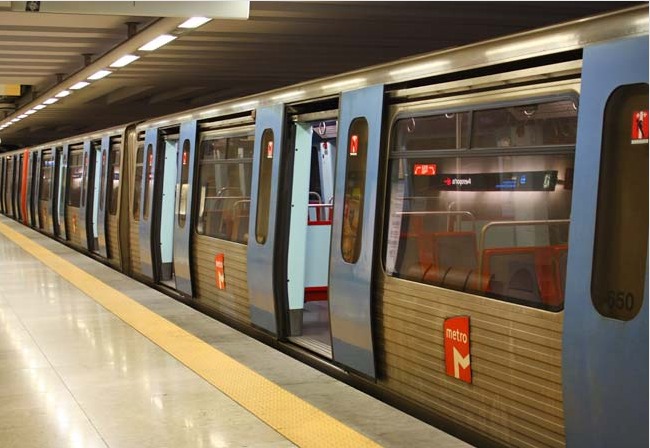 Argon is looking forward to attending the CBRNe Summit Europe in Lisbon, Portugal this March. We plan to exhibit a wide range of CBRN training systems to support training in contamination avoidance, monitoring and control, reconnaissance, search, and survey and additionally present a conference paper outlining the latest developments enabling you to implement "Real Experience" CBRN training.
Also importantly, we're going to demonstrate how versatile our devices are by running "real experience training" scenarios on board a railway train.
Showcasing Real Experience Training
To showcase the ability to train when, where, and how you want, Argon has set up demo scenarios using the AccuRAD-SIM on board a real railway train.
Participants will be able to use the AccuRAD-SIM, which responds to Radsim electromagnetic sources that safely simulate ionizing radiation, to test a wide variety of different responder training scenarios.
→ Learn more about AccuRad- SIM - an incredible radiation safety training simulator
They'll see firsthand the effectiveness of real experience training, with a device that has the same functionality, look, and feel as the actual detector. By going through a highly realistic and engaging scenario on board the train, they will also see how simulator devices and systems facilitate the development of the muscle memory necessary to respond to real-life emergencies.
This exciting train-based scenario demonstrates the foundation of what real experience training is: the ability to train in real-to-life situations and locations to achieve the best learning outcomes.
The Simulators and Systems We Plan To Exhibit
We plan to highlight a range of training systems at the summit, including our new Tracerco PED+SIM, MultiGAS-SIM, simulators for Thermo RadEye GF10-SIM, AccuRAD-SIM, Radsim DS3, Radsim SS3, PlumeSIM LCD3.3-SIM, AP4C-SIM, S4PE-SIM, RAID-M100-SIM, PlumeSIM and PlumeSIM-SMART.
This app-based device mimics the look and feel of a real detector. It offers ultimate flexibility by supporting from one to a total of eight different simulation sensor types, with an optional instructor remote controller for working with trainees from a distance.
From Argon's simulation experience and a strong relationship with ThermoFisher, the Thermo RadEye realistically responds to Radsim electromagnetic sources that safely simulate ionizing radiation. This eliminates any regulatory, environmental, or health and safety concerns.
Argon's relationship Mirion has brought forth an AccuRAD-SIM that has the same look, feel, and functionality as that of the actual detector. In fact, all of its user interface components, including front and top displays, trend and radar mode, switch panel, sounder, and vibrator are exactly the same as the real detector.
The Radsim DS3 training simulator for the Thermo/Mini Instruments Mini Monitor 900 EP15 contamination monitor supports training for the detection of alpha and beta particles using safe, environmentally friendly training simulants.

The SS3 generic survey meter simulator enables a real experience of the typical operational functionality of radiation survey meters, without the need for ionizing radiation sources.
This simulator for the Smiths Detection LCD3.3 and LCD3.3FR is ideal for CBRNe / HazMat exercises because it responds to electronic sources that simulate chemical vapours, toxic industrial substances, or false positives. It reduces sieve pack consumption and helps preserve real detectors for operational readiness.
This training system works with the Proengin AP4C detector. It can simulate everything from chemical warfare agents to the effect of wind duration and temperature, with no consumables required and a low cost of ownership. It's also designed to be fully compatible with the PlumeSIM system for wide area tactical field exercises.
This training simulator for the Proengin S4PE surface sampler and confidence tester looks and functions just like the actual S4PE used with the AP2C and AP4C detectors. It can simulate everything from battery and hydrogen cell depletion to the collection of surface samples, all with a quick ten-minute setup time.
The Raid-M100 chemical hazards detector simulator includes an enhanced selection of instrumented training systems for military and civil CBRNe responders. It offers a unique combination of features for training in the correct use of the Bruker RAID M / RAID M100 in virtually any scenario and environment, without the need for an ionising radiation source.
PlumeSIM® and PlumeSIM-SMART® are wide-area training systems that provide the management of chemical and radiological simulators. These simulators can respond to a wide variety of user-defined threat scenarios, in real-time. The systems also come complete with powerful after action review to ensure effective learning outcomes.
PlumeSIM-SMART® comes as a powerful app-based system that responds in real-time according to the evolving simulated threat environment.
About CBRNe Summit Europe 2023
CBRNe's annual event will take place in Lisbon, Portugal. The conference and exhibition run from 21 – 23 March 2023 and are officially supported by the Lisbon Fire Brigade and Lisbon City Hall.
The summit will include two days of presentations and networking, in which perspectives from both civil and military agencies across Europe and North America will be discussed. The third day will feature a live demonstration and exercise by the Lisbon Fire Brigade showcasing their CBRNe capabilities. And for the first time, vendors, including Argon, will also be able to demonstrate their products in a live setting.
Click here to learn more about CBRNe Summit Europe 2023
To book an in-person demo at the Summit with Derek, our UK Business Development manager, reach out to us here.