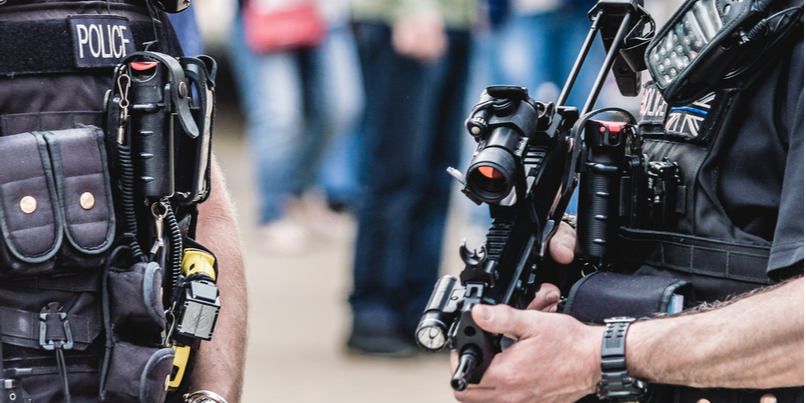 The UK's leading annual Security and Policing event will be taking place at the Farnborough International Exhibition and Conference Centre this March 3rd to March 5th 2020.
Hosted by the Home Office's Joint Security and Resilience Centre (JSaRC), the Security & Policing exhibition is the only 'closed' event of its kind and, as such, is widely regarded as being a cornerstone of the UK security calendar.
Influencers from government, industry and academia will come together over the three days to explore the complex challenges facing modern-day security and law enforcement.
This year's event will include an extensive exhibition that will cover such topics as counter terrorism and intelligence, border security, CBRN, emergency response and cyber security.
Visitors will also be able to view live product demonstrations, panel discussions, keynote briefings and immersive activities.
Admittance will be by registration only and all visitors will be subject to U.K. Home Office pre-approval.
Launch of the RadEye GF-10 SIM
A special focus for Security & Policing 2020 will be on the opportunities made possible by the development of innovative cutting edge CBRNe and HazMat technology.
Many UK suppliers choose to use the event as a platform to showcase their newest innovations in the field of security equipment, training and support.
For Argon Electronics, this year's exhibition will mark the official launch of the latest addition to its stable of high-fidelity radiation simulator detector technology products - the RadEye GF-10 SIM.
The development of the RadEye SIM has been a collaborative effort - made possible through Argon's partnership with the leading global life sciences company ThermoFisher.
High impact radiation training is dependant on creating a training experience that replicates the interface, response speed and sensitivity of the actual device.
Much effort has gone into ensuring that Argon's RadEye simulator retains the look, feel and responsiveness of an actual detector, whilst at the same time harnessing the many safety, administrative and regulatory advantages made possible by simulator technology.
Safety is always a major consideration in radiation training, and with this in mind the RadEye SIM has been engineered to respond to Radsim electromagnetic sources that safely and effectively simulate the behaviour and characteristics of ionizing radiation.
Other notable features of the RadEye SIM include inverse square law (1/r2) response within real detector tolerance, simulation of user body shielding for source location, the realistic representation of the different effects of shielding, and selectable units of measurement (Sv/hr, Rem, CPS).
The device has been designed to replicate the human interface of the actual RadEye, including features such as configurable menu settings, dose/dose rate alarm settings and language selection.
Ease of use is also a defining factor. The RadEye SIM requires no preventative maintenance or regular calibration, thereby ensuring that the whole-life cost of ownership is vastly minimised, that there is no expensive wear and tear of real detectors and that operational readiness is maintained.
Security & Policing conference highlights
Keynotes briefings
The Security & Policing keynotes programme will feature input from senior UK Ministers from the National Secretariat, Home Office and other Government departments including representatives from the National Crime Agency (NCA), the Metropolitan Police Service (MPS), the Department for International Trade Defence and Security Organisation (DIT DSO) and the Head of Defence and Security Accelerator (DASA).
Networking Zone
A Government Networking Zone will provide an informal networking and discussion space where visitors can speak informally with government representatives about the topics most relevant to their work.
Government Showcase
The Government Showcase zone will bring together representatives from multiple agencies and departments into a single forum, with participating organisations including UK Border Force, the Department for Transport (DFT), Her Majesty's Prison and Probation Service (HMPPS) and National Counter Terror Policing (NCTP).
Plan your visit to Security and Policing 2020
When: Tuesday March 3rd, 09:00 - 16:30; Wednesday March 4th, 09:00 - 16:30; Thursday March 5th, 09:00 - 15:00
Where: Farnborough International Exhibition and Conference Centre, Etps Road, Farnborough, GU14 6FD
Find Argon Electronics: Argon will be located on Stand B2
Registration: Please note there is no general admittance to the Police & Security event. All visitors must register to attend and will be subject to Home Office pre-approval. To confirm your eligibility please refer to the Security and Policing registration information.