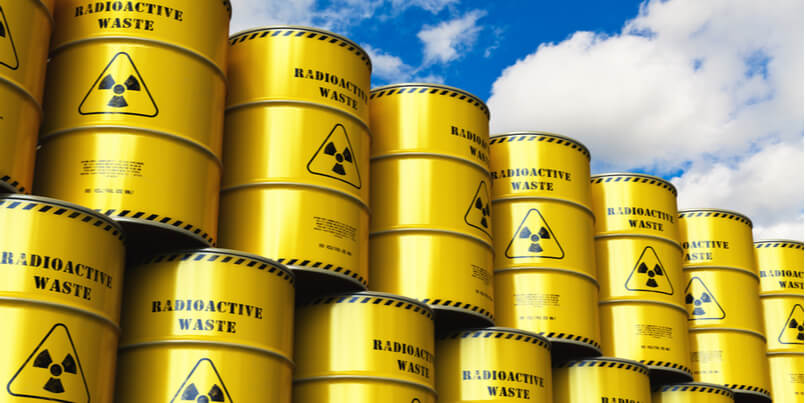 Technology and equipment is making a powerful contribution to the realism and learning outcomes of radiological training programs for emergency responders, firefighters and HazMat personnel.
With the help of innovative new simulator-based training tools, instructors are able provide their trainees with the crucial hands-on experience that they need to safely handle the challenges of live radiation incidents.
In addition to building confidence in the use of the physical equipment itself, simulator detectors can also add value by enabling students to experience the significance of the science that underpins radiological defence.
Merging radiological theory and practice
Understanding the significance of inverse square law has long been a cornerstone of classroom-based radiological training.
But while explaining the theory is relatively simple, finding ways to practically demonstrate the relationship between radiation intensity and distance from the radiation source can be difficult.
In adopting a simulator-based approach to radiological training it is now possible to create highly realistic exercise environments that replicate how radiation behaves in real-life.
For radiological instructor Ken Cochran from the Tennessee Emergency Management Agency (TEMA), the use of Argon Electronics' DT616-SIM Beta Gamma simulation probe and simulation sources has substantially enhanced the realism and the delivery of the agency's radiological exercises.
The DT616-SIM radiation hazard simulator probe has been specially designed to be used in conjunction with the trainees' own operational detectors without requiring any calibration of their actual instrument and without the need for any form of real radiation source or radioactive material.
With the use of safe electronic and magnetic sources that simulate beta and gamma radiation, radiological training can be conducted in any location and with no regulatory, environmental or health and safety concerns.
The system's compatibility with a wide variety of other dosimeter, survey/radiac meters and spectrometer meters manufactured by Argon Electronics also means that multi-detector and multi-isotope training can be easily conducted within the one scenario.
Realistic radiological training without live sources
Currently, Cochran primarily uses simulation to support Department of Transportation training in the search of illicit radiological sources and to aid in the delivery of the agency's Modular Emergency Radiological Response Team Training (MERRTT).
Trainees able to safely exercise without the use of live radiological sources and they are able to experience the ease with which radiation can be detected.
An instructor remote controller also makes it easy to simulate the effects of decontamination and probe failure.
If required, there is also the option to include other forms of hazardous substance releases such as chemical agents which can be used to practice a wider range of HazMat and chemical warfare simulations.
Understanding the fundamentals of radioactive materials, radiological survey instrumentation and decontamination techniques are vital requirements for personnel operating in an emergency response capacity.
Radiological training with simulators offers the opportunity for trainees to widen their knowledge of the science that supports radiological defence and to build the core skills that they need to handle real-life radiation incidents.
To learn more about how Ken Cochran sourced, procured and successfully integrated simulator technology to enhance the TEMA radiological training program, please download your free copy of the case study below.