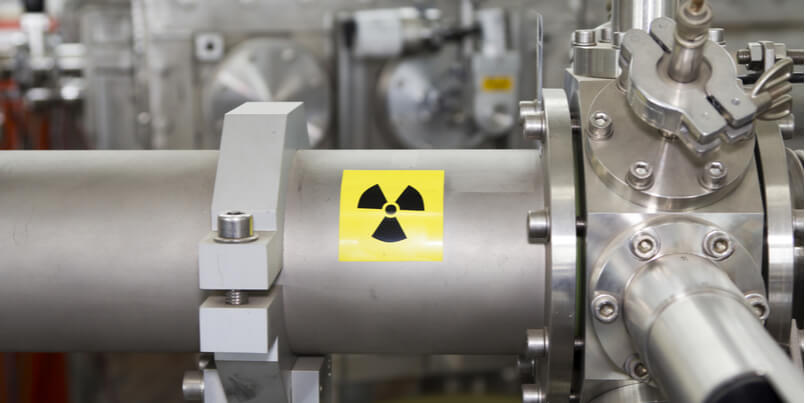 In order to ensure best radiological preparedness, it is important that nuclear personnel are able to train against highly realistic scenarios in relevant locations and, ideally, while using their own operational equipment.
One of the most common obstacles in delivering hands-on radiological instruction however, is finding a way to balance the desire for realism with the essential need for safety.
While it is vital that personnel are prepared for the realities of real-life nuclear and radiological emergencies, everything hinges on the degree of hands-on training that they have received.
Ideally, trainees need to be able to exercise the entire response process - from initial detection and characterization of the hazard, to decision-making and putting appropriate actions in place.
Until recently though, the scope and effectiveness of radiological instruction has often been limited by health and safety, regulatory and administrative considerations.
Event controllers often have to resort to simpler and less logistically demanding instruction methods such as spoon-feeding information to trainees as to what it is they "should be seeing" on their instruments, or using simulators that have been programmed to respond in a specific way.
The fact remains though that the prospect of facing a real live radiological hazard is vastly different to being presented with an artificial one that has been placed in a "make-believe" training environment.
Real-world radiological instruments (and in particular spectrometry equipment) can also behave very differently in high-hazard situations or when operating against large or distributed radiation sources.
What is important is that responders are able to experience these variations for themselves and that they are confident in knowing how to recognise those differences when faced with a real-world emergency.
How to train using actual radiological detectors
Another challenge is ensuring that personnel have complete trust in the functionality and the outputs of their actual operational equipment.
If instructors wish to incorporate actual detectors into their training exercises they typically have two main choices - either to use some form of small non-hazardous radiation point source or to employ a virtual simulation based on a digital representation of the device.
Inevitably though, neither approach is capable of recreating all of the physical complexities of a live large-scale nuclear event with any sufficient degree of realism.
Small radiation sources are simply not up to the task of representing large-scale contamination or hazard-level sources. They also need to be placed close enough to (or ideally directly on top of) the detector in order to elicit a response.
Now however, there is a new training system technology available that makes it possible to train using actual radiological detectors in combination with highly realistic and completely safe simulations of radiological sources.
The Radiation Field Training Simulator (RaFTS)
The Radiation Field Training Simulator (RaFTS) merges virtual hazard and real-world detection capabilities to enable nuclear personnel to experience all of the practicalities of operating against a live radiation hazard while using their own operational detector equipment.
In contrast to simulator detectors which duplicate the look and feel of the real device, RaFTS technology produces a response within the actual radiation detectors which accurately depicts all of the physics of real-world usage.
With RaFTS, trainees can see exactly how their actual equipment will react to realistic hazards and they can experience all of the psychological aspects of response.
A vast array of pre-calculated scenarios can be easily programmed into RaFTS, with the option to use multiple radiation sources which can be either dispersed or in fixed locations. Exercises can also be delivered in any location, including public spaces.
While the initial focus of the project has been on injecting signals into a port provided on an adapted detector, it will soon be possible to implement a dedicated simulator by means of sensor substitution, which will offer users the option to upgrade their existing detector equipment.
One of the other significant benefits that RaFTS provides is the extremely high quality of the output energy spectra which can be processed and sent to reachback centers just as in real-life.
Honing radiological preparedness with hands-on training
In order to be truly prepared for the demands of real-world emergencies that involehigh-radiation-dose or high-threat hazards, it is crucial that nuclear personnel are provided with the opportunity to practice using their actual equipment in relevant environments.
Currently available radiological training methods can often be limited when it comes to the realism of scenarios and the difficulties in obtaining realistic configurations from what are often small quantities of radiation sources.
RaFTS addresses these training gaps by enabling responders to build vital familiarity with their actual equipment and to train against authentic and scientifically-robust radiological scenarios.
Read about RaFTS in Nuclear News
In a July 2021 article for Nuclear News magazine, Argon Electronics, together with its partner the world-leading Lawrence Livermore National Laboratory (LLNL), explains the background leading to the inception, development and implementation of the radiological training system the Radiation Field Training Simulator (RaFTS.)
The article examines the rationale behind the technology, it explores the radiological expertise that has underpinned the RaFTS project and it outlines the specific training challenges that this new training system has set out to resolve.
If you would like to learn more about the applications of RaFTS for your radiological training programs please contact a member of the Argon team for more information.
Argon is also actively seeking interest from detector manufacturers who would like to participate in the commercialization phase of the RaFTS project.