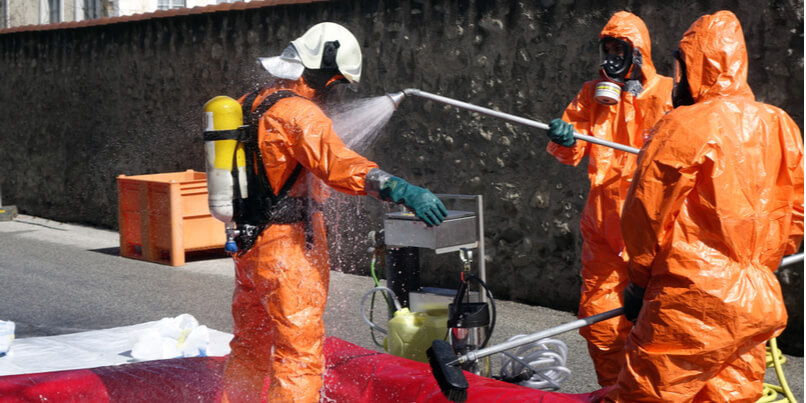 After a year of digital interaction, online events and virtual networking, many within the CBRNe industry will no doubt be keenly awaiting the return to face-to-face conferences and exhibitions.
Among the live events that were previously postponed due to COVID-19 is CBRNe Summit USA which is currently scheduled to take place in Las Vegas, Nevada, October 12th to 14th 2021.
Attendees at this highly-anticipated inaugural conference, exhibition and live demonstration will have the opportunity to hear insights from military and civilian officials representing the spectrum of CBRNe preparedness, training and response.
A particular focus of the summit will be on the increasing importance of protecting civilians from new types of CBRNe threats.
Key themes will include regional, national and international approaches to chemical and biological response; techniques for first responders in handling HazMat, decontamination and infectious diseases; and pandemic preparedness and medical countermeasures in the wake of COVID-19.
Day one of the conference will begin with an overview of Nevada's CBRNe response capabilities, with presentations from the Las Vegas Fire Department Chief of Special Operations Craig Cooper and the Commander, ARMOR Section, of the Las Vegas Metropolitan Police Lieutenant Zachary Burns.
The President and CEO of Environics Michael Phillips will then be joined by Environics' Application Manager Handheld Chemical Detectors, Teemu Partenan, where they will discuss the contribution of handheld detection devices in aiding the CBRNe mission.
The challenges of chemical-biological countermeasures and response will be examined by Richard Schoske from the Defence Threat and Reduction Agency (DTRA) who will discuss the use of new diagnostic technologies for chemical and biological detection.
Argon Electronics' North American Business Development Manager Bryan Sommers will explain the latest developments in simulator training solutions for chemical and radiological response.
Sommers will specifically focus on the applications of the Radsim GS4-A radiation training simulator which uses simulation gamma radiological sources to create highly realistic radiological training exercises.
Regional, national and international CBRNe response
Among the wide variety of CBRNe topics that will also be covered over the two-day conference are:
Chemical-biological countermeasures
The role of inter-agency collaboration in combating CBRNe threats (presented by Dr Eric Moore, Director, US Army CCDC Chemical Biological Centre)
The relevance of public-private partnerships in countering Weapons of Mass Destruction (Mike Stebbins, Executive Director, CWMD Consortium)
International CBRNe preparedness
The pan-European civil response to CBRNe events (Jon Hall, founder and CEO of the Resilience Advisors Network)
UK response and collaboration in the face of CBRNe attacks (Dr Patrick Mullan, Team Leader Chemical Biological Response Team, DSTL)
US preparedness and response
Training for a CBRNe incident (Brigadier General Daryl Hood, Commandant of the US Army CBRN School)
FBI preparedness for a biological threat/attack (Donald Alway, Assistant Director, of the WMD Directorate, FBI)
First responder techniques
CBRNe prevention measures at high profile events including the NFL Draft and the Presidential Debate (Michael Armistead, HazMat Specialist, Nashville Fire Department)
Haz Mat and decontamination procedures in a hot zone (David Di Gregorio, Director HazMat Emergency Response, Massachusetts Fire Services)
Cooperation when dealing with a large CBRNe incident (Timothy Rice, Battalion Chief, HazMat Operations, Fired De[artment New York)
Pandemic preparedness and countermeasures
Fostering an international culture of biosafety, biosecurity and responsible conduct in life sciences (Richard Whitley, Director, Nevada Department of Health and Human Services)
Monitoring the environmental impact of an infectious disease outbreak (Dennisses Valdes, Branch Chief, Environmental Response Team, US Environmental Protection Agency)
Live demonstration
Day three of CBRNe Summit USA will feature a live demonstration focused on response to suspected "white powder" (anthrax/biohazard) exposures.
The demonstration of white powder protocol will be jointly hosted by the Las Vegas Metropolitan Police Department All-Hazard Regional Multi-Agency Operations and Response (ARMOR) Team and the Las Vegas Fire and Rescue CBRNe Unit.
Planning your visit to CBRNe Summit USA
Argon Electronics is delighted to be both a sponsor and exhibitor at CBRNe Summit USA.
We will look forward to meeting you at our exhibition booth where we will be demonstrating Argon's range of chemical and radiological simulation systems.
If you would like to book a face-to-face appointment with a member of the Argon team, or would like to arrange a free no-obligation trial of our simulator products then please contact us.
For further information about CBRNe Summit USA you can also contact the organisers at events@intelligence-sec.com.