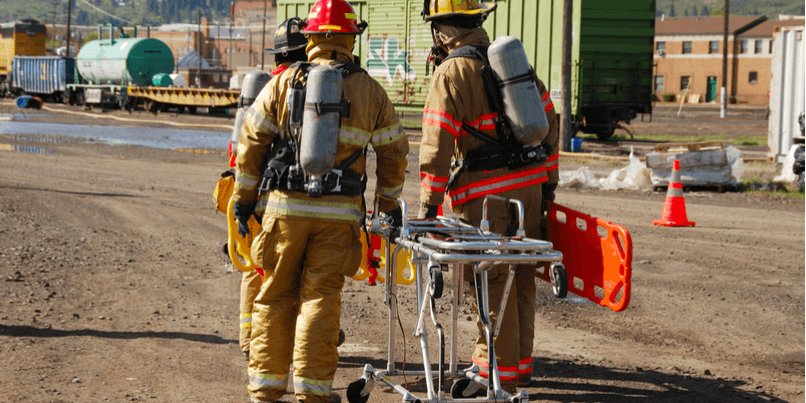 CBRN and WMD terrorism, whether it occurs at home or abroad, remains an ongoing threat with the potential to inflict mass casualties. And the effects of terrorist incidents can persist long after the event, as evidenced by the after-effects of the 9/11 attack on the World Trade Center in New York.
Just this week there were reports of the recent deaths of a further three retired FDNY firefighters, all of whom succumbed to the effects of 9/11 related illnesses believed to be caused by toxic dust at Ground Zero. All three lost their lives within a 48 hour period, bringing the number of post-9/11 FDNY employee deaths to more than 180.
For the CBRN community, both within the U.S. and around the world, the lingering effects of 9/11 are a stark reminder of the importance of working together to leverage our combined CBRN experience, skills and expertise.
One such example of the coming together of industry professionals is the CBRN Exhibition, which is hosted by the Chemical Corp Regimental Association (CCRA) and which will take place at the US Army School, Ft. Leonard Wood, June 25th and 26th 2019.
The CBRN Exhibition 2019 will take place during the week of the 7th Annual CBRN Senior Executive Leader's Symposium which provides a forum for members of the U.S Department of Defence; Federal, State and Local Governments; private industry and academia to discuss latest developments in CBRN defense, readiness and response.
Confirmed speakers for the 2019 symposium include:
The Honorable Guy Roberts - Assistant Secretary of Defense for Nuclear, Chemical and Biological Defense
Douglas Bryce - Senior Executive Service (SES), Joint Program Executive Officer for Chemical Biological, Radiological and Nuclear Defense
Dr Michael Kuliasha - SES, Director, Nuclear Technologies Department
Eric Moore - SES, Director U.S . Army Combat Capabilities Development Command Chemcial Biological Center
Brian Boetig - Assistant Director Weapons of Mass Destruction Directorate, FBI
Joel Rynes - Associate Deputy Assistant Secretary (Acting), Countering Weapons of Mass Destruction Office, DHS
A wide range of current CBRN topics will be covered including: Improving Domestic CBRN Readiness and Response Capabilities; Driving Medical Countermeasures Development to Limit Adverse Health Effects of CBRN Incidents; and Fostering Joint, Interagency and International Cooperation.
About Fort Leonard Wood
Fort Leonard Wood is a U.S. Army training installation located in the Missouri Ozarks and covering a total area of 97.6 square miles. It was first established in 1940, and was named in honor of former U.S. Chief of Staff General Leonard Wood.
Fort Leonard Wood is home to the U.S. Army Maneuver Support Center of Excellence which is responsible for the training of approximately 90,000 military and civilian personnel every year.
It is also the training headquarters for the Training and Doctrine Command's U.S. Army CBRN School, the U.S. Army Engineer School and the U.S. Army Military Police School.
About the Chemical Corps Regimental Association (CCRA)
The CCRA is a non-profit organisation which has been set up to support the lineage and history of the Chemical Corps, its soldiers and family members by providing support and assistance to Chemical Corps families around the world. Its history dates back to World War 1, when the German use of chemical weapons was pivotal in the creation of a U.S. specialized gas unit.
CCRA membership is made up of a combination of those in active duty, reserve components, National Guard service members, retired service members, past and present U.S. Government civilian employees, veterans, service academy cadets, cadets of the Reserve Officer Training Corps and Chemical Corp industry professionals.
Displays and live demonstrations at the CBRN Exhibition 2019
Argon will be exhibiting at the CBRN Exhibition 2019 where we will be displaying, and providing live demonstrations of, a range of innovative simulator training systems that support the implementation of CBRNe exercises.
Simulators for the Smiths LCD3.2e and LCD3.3, Mirion/ Canberra RDS100 / PDR77 Ludlums simulator probes and EPD Mk2 will be on show, together with the instrumented training system, PlumeSIM, which is currently used by leading training facilities worldwide.
The app-based PlumeSIM-SMART will also be available to view, providing the opportunity for exhibition attendees to experience its capabilities for tabletop and field emergency planning exercises.
If you have any questions at all about the use of simulators for radiation and chemical hazard detection training then please stop by our stand during the exhibition to speak with a member of the Argon team.