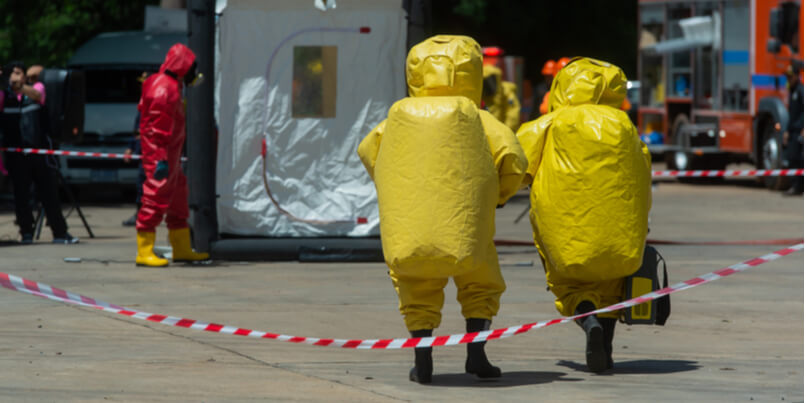 Specialist HazMat training exercises can provide vital learning opportunities for first responders by enabling them to put into practice the knowledge and skills they will rely on when tackling hazardous materials incidents.
When there is the chance to conduct these HazMat training scenarios in a real-life setting, instructors can also offer trainees the added advantage of being able to experience what would normally be a "staged" exercise in as realistic a context as possible.
Creating authentic HazMat training experiences
In a recent training day conducted by the Northamptonshire Fire and Rescue Service (NFRS), firefighters from three local fire services were able to put their HazMat skills into action as part of a specialist chemical substance spillage scenario at the University of Northampton.
The participants were tasked not only with with dealing with the spill but also with conducting a search and rescue of a missing person - and all whilst working alongside a variety of other agencies against the backdrop of a large and heavily populated university campus.
What the exercise demonstrated was that the choice of a public location offered some fruitful learning opportunities - both for the trainees themselves and for their hosts.
For the NFRS there was the benefit of being able practise their emergency preparedness protocols in a safe and controlled real-life environment.
And, as the university's Fire Safety Advisor Luke Hodson commented, the scenario also provided a great way for the university itself to "tap into the expertise" of the NFRS.
The university's Safety, Health and Environment Manager, Sarah Steers also explained that the event had been invaluable in helping to test its health and safety processes.
The conducting of specialist HazMat training exercises in public settings offers participants the chance to test their skills in as realistic a setting as possible.
As the NFRS training exercise has proven, there can be some significant benefits in choosing to collaborate - and with the right planning, a chemical hazard exercise can be conducted in a public setting in a way that poses no elevated risk.
Why test chemical hazard awareness?
Chemical hazard awareness training offers the opportunity to scrutinise a wide variety of skills.
Instructors may wish to challenge their trainees' ability to quickly familiarise with a new or unfamiliar site.
They may want to ensure that all participants are confident in recognising the presence of a hazardous substance - or that they are able to predict the likely behaviour of a specific chemical once it is released.
It may be be important to test students' understanding of the health impacts of exposure to different chemicals, that they understand the purpose and function of their Personal Protective Equipment (PPE) or that they are able to take appropriate action in the event of chemical exposure.
Additionally it may be necessary to check their competence in using a variety of chemical detection tools, meters or monitors - and to ensure they are able to accurately interpret the readings that their devices provide.
Maintaining safety and authenticity
Conventional classroom HazMat training exercises will always have an important role to play in providing trainees with essential theoretical insight into the challenges of handling chemical spills.
But if instructors are looking to create a higher degree of authenticity and the chance to achieve better learning outcomes for their students, then hands-on experiences in a real-life setting can offer many advantages.
A key consideration when planning any form of public-setting exercise, such as the one organised by the NFRS, is to ensure that it is carried out in a way that provides as authentic an experience as possible - but in a way that is at all times safe and controlled.
In certain training scenarios, the use of simulator detector equipment for the detection of chemical gases, liquids or vapours could well provide an invaluable enhancement to conventional HazMat training methods.
Simulator detectors can enable participants to experience all the functionality of the actual equipment that they will be required to use in real-life hazardous materials incidents - but whilst ensuring there is none of the the risk associated with the release of an actual hazardous substance.
If you would like to know more about how simulator training tools could be usefully incorporated into your existing HazMat training programmes then please download our free guide below.