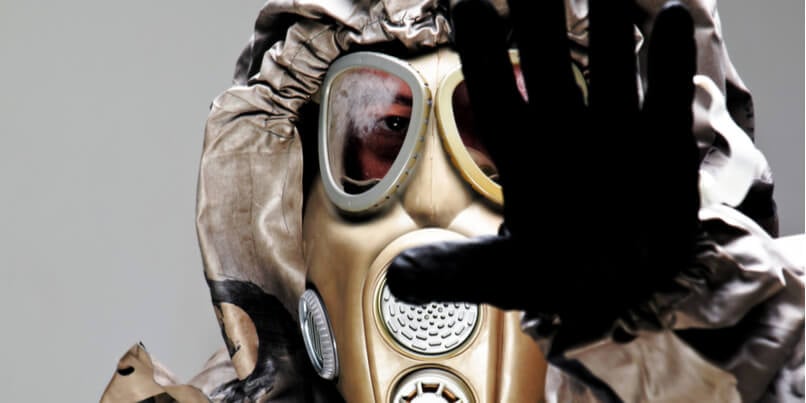 For those tasked with HazMat safety instruction, the desire to implement realistic, efficient and cost-effective scenarios always needs to carefully balanced against ensuring the highest levels of safety.
As we have explored in previous blog posts, HazMat safety training can range from the simplest of "make-believe" exercises through to what is widely considered the pinnacle of live-incident training - Live Agent Training (LAT).
In a news release in January 2018, the United States Center for Domestic Preparedness (CDP) announced that it was to resume the use of live nerve agents and biologicals in its hazardous materials training courses.
This decision marked the end of a two year suspension of live-agent training for the CDP, following the discovery of inconsistencies in the toxicity levels of sources being supplied by a third party vendor.
In reinstating its live-agent programme, the center emphasized that it had revisited and re-validated its processes - including providing approved National Institute for Occupational Safety and Health (NIOSH) respirator masks; updating the facility's ventilation system to allow more precise control of airflow; and hiring additional environmental management, occupational health and quality assurance specialists.
CDP's acting Superintendant Tony Russell said of the decision "Our number one goal is to provide our students and staff with the safest and most realistic training possible."
So what is it about the nature of LAT that presents so many inherent challenges? And given those challenges, what other viable training alternatives exist that can provide the degree of realism that effective HazMat training requires?
Live Agent Training (LAT)
LAT makes use of controlled quantities of live chemical sources to replicate live-incident conditions. As such, it provides trainees with an invaluable and in-depth understanding of chemical hazards, their effects and consequences.
However while the highly specialised nature of LAT offers a host of benefits for participants in providing a high degree of realism, it is also subject to stringent rules and regulations and brings with it a raft of health and safety implications.
The chemicals used in live agent HazMat training exercises are of the highest grade - often in the 90-95% purity range - which means that the safety of personnel, the public at large and the environment is of paramount importance.
When an LAT exercise is conducted outdoors for example, all elements of the scenario have to be rigorously controlled - from the time of the day that the scenario takes place, to the prevailing weather conditions and the nature and quantity of the chemical or biological agent that is being being used.
LAT can also take its toll on expensive operational equipment (such as detectors, monitors, consumables and personal protective equipment) which must be decontaminated and verified as safe before it can be released back into service. And in some cases, certain items may need to be destroyed altogether at the conclusion of a training exercise.
And perhaps most crucially, LAT relies on a high level of proficiency on the part of the trainee, which means it can only be undertaken by personnel who have already demonstrated an advanced understanding of HazMat detection, identification and decontamination procedures.
But what other viable training options exist when LAT simply isn't feasible?
HazMat training with simulants (SAT)
Simulant training is often considered a short step down from LAT as it makes use of chemical substances that mimic the behaviour of live agents.
The relative safety of simulants (when compared to LAT) makes it easier to facilitate more realistic and involved training scenarios.
The challenge still remains however to identify appropriate chemicals that accurately replicate live sources while at the same time being safe for use around humans.
Using wet simulants as interferants usually provides the closest resemblance to how real agents react - however most wet simulants can only be used outside, which means that their use is weather dependent.
Simulants can be difficult to dispense and control and they can't generally be disseminated over a large area.
Many are also not biodegradable, so their continued use in any one particular area can result in build-up over time that can present a significant risk to both human health and the environment.
HazMat training with simulators
An alternative option to live-agents or simulants is the use of intelligent simulators that are configured to represent the look, feel and responses of actual detectors but that are designed to respond to safe electronic sources.
One of the key benefits of electronic simulators is the ability to be able to detect and monitor an invisible or near invisible chemical hazard as it moves through the air or contaminates equipment, infrastructure or terrain.
An electronic simulation vapor generator for example can be programmed to represent the characteristics of a specific nerve agent such as Sarin. The AP2C simulator will then provide an indication in the P channel that a nerve agent may be present.
Computer-based simulation tools, such as PlumeSIM-SMART, can also offer a highly effective extension to existing safety management programmes.
As the recent nerve agent attack in the United Kingdom has demonstrated all too clearly, the deliberate release of chemical or biological agents in a civilian setting presents a palpable risk to the victims, the environment, the public at large and those charged with attending the scene.
While the use of electronic simulatiors may never be a complete replacement for LAT, it does represent a viable, safe and cost effective learning experience which can be invaluable in preparing trainees for the unique challenges of a live incident.

Ultimately, the decision to use LATs, SATs, and/or simulators in HazMat training scenarios depends on key sets of circumstances, including budget and time constraints. While LAT provides realism, SAT might be more afforadable. Simulator training is much more low-risk than LAT and SAT, which may make it a viable option for a variety of circumstances including to aid preperation for LAT. To better visualise how simulator training can work within a chemical warfare environment, Argon has put together a guide with examples of real training scenarios. Download it for free to learn more about simulators and how they can improve student training.