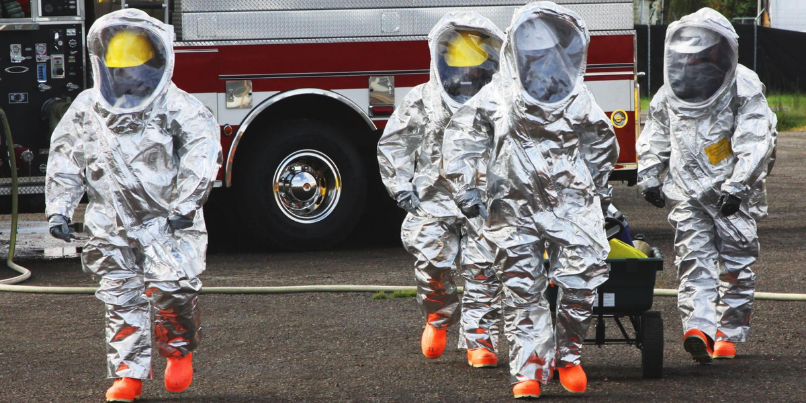 On the surface, radiation training can seem somewhat straightforward: teach students how to properly and safely respond to situations involving radiation. However, as many CBRNe instructors know, it's not that simple.
There are key factors and challenges to consider when implementing a training scenario, the most significant of which includes safety, realism, cost, and logistics. Many of these can be overcome with one key solution: a real experience training.
With that in mind, let's take a closer look at some common challenges CBRNe instructors face when running radiation training, and then delve into how simulations can solve these issues.
Radiation Training: Arguably The Most Problematic CBRNe Exercise
While chemical training can have its own set of challenges, many will argue that a radiological training scenario is much more problematic to run effectively. There are key challenges to consider, including:


Safety
As CBRNe professionals appreciate, ionising radiation is a potentially harmful form of energy that needs to be handled carefully. The safety of both the trainer and the trainee(s), the public at large, and care of the environment, must all be prioritised during every training session.
That said, there are a vast array of legislative, administrative and health and safety implications which make the storing, transporting, handling, deployment and dispersion of live radiological sources a challenging (and often unviable) option for radiation safety training.
These will likely limit how you run your scenario, especially when considering the amounts and types of radiological sources which can be used, where they can be deployed and ultimately the quality of the overall student training experience.
Instructors looking to run hands-on training scenarios that properly replicate features of a real radiation incident will usually find that safety concerns are their biggest roadblock.
Realism
It can be difficult to achieve the "pucker factor" necessary for realistic radiation training whilst also meeting the aforementioned safety protocols. Instructors are frequently challenged to find engaging ways to deliver scenarios, especially in terms of hands-on learning using realistic instruments.
Have you ever had a student work out where the hazard was because they saw the safety marshal or the radiation source safety markers? That's a sign that the training wasn't real enough for them.
Cost
Radiological sources can come at a significant cost, especially if and when training scenarios need to be repeated. Other considerations are costs of location rental and travel to the venues themselves, as usually, these are highly limited and geographically undesirable.
Instructors also need to organise and pay for the appropriate safety marshals required for the training. Finally, there's an eventual significant cost of end of serviceable life source disposal.
Logistics
Instructors looking to run a radiation training scenario need to not only plan the training event itself, but also find a safe, authorised location to run it. These are generally remote, empty buildings which can be problematic to not only access but travel too. Instructors are also limited to the schedules of the labs providing the radioactive materials, which makes them unable to control when the training can take place.
As instructors know, the most effective learning comes from practice and repetition. However, after considering safety, cost, and logistics, it's easy to see why traditional radiation training can be difficult to either practice or repeat.
Why Radiation Training Simulators Are Key To Safe, Cost-Effective, and Efficient Teaching Scenarios
Generally, teaching students how to use the radiation detection equipment itself can be straightforward. The real training lies in understanding the significance of the detector readings, recognising changes in units of measurement, and familiarising students with the concept of shielding, survey, contamination avoidance, decontamination procedures, and dose management.
As mentioned, this involves a certain amount of practice and repetition. One of the greatest strengths of a radiation simulation is the instructor's ability to quickly, efficiently, and safely set up the training scenario, all of which allows for repeatability.
This is why real experience radiation simulations are a key component of CBRNe training. As with all training, however, there are still some important factors to consider when running these simulations.
Here are a few things to consider when running a safe, cost-effective, and efficient CBRNe radiation training simulation:
Safety
As Argon's simulators don't contain any real radiological sources, instructors don't need to consider potential radiation exposure to those involved in the training.
However, you should still perform basic safety checks, such as clearing any trip hazards, ensuring first aid kits are on hand, and providing appropriate PPE for the training site.
Cost
The whole-life cost of Argon's radiation simulators is much lower than traditional radiological training solutions, however, there are always ways to cut costs further.
Utilising Argon simulators allows for far greater flexibility in your training location, so research new areas with cheaper rental rates. Additionally, since Argon's simulators are easy to reset, you can negotiate with these spaces for multiple sessions at a lower rate.
Also, consider geography. Argon simulators can be used anywhere, so you have the freedom to choose a site close to your headquarters to minimise travel time and cost. There is also the option to train at sensitive locations such as railway stations, airports, and public venues.
Adding Efficiency and Realism
Ideally, any radiation safety training scenario should be as simple as possible to set up and repeat. This is another reason Argon simulators outperform traditional CBRNe radiation training.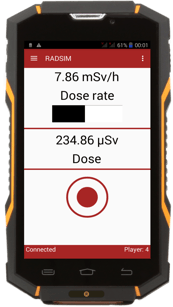 Argon's app-based PlumeSIM-SMART, for example, enables you to easily select the timing and duration of single or multiple virtual radiation plumes. This simulator allows for tabletop and large field exercises of up to 2500 square kilometers. With just a few taps, you can set key meteorological conditions and modify wind direction and velocity during the exercise.
You can set up the Plume-SIM-SMART anywhere, at any time. This allows for practice in any type of weather, which is important to consider when radiation responses can be affected by wind, fog, and other meteorological conditions.

Another key consideration is injecting realism into the scenario. Index cards and over-the-shoulder directions simply don't offer the same level of realism as an actual device in a student's hands, with readings from a true-to-life radiation simulation.


This is why many CBRNe instructors are looking forward to working with Argon's new AccuRad PRD Simulator.
Argon's wealth of simulation experience combined with its relationship with Mirion has resulted in a training device with user interface components (front and top displays, indicators, trend and radar mode, switch panel, sounder, and vibrator) which are exactly the same as the real detector. Instructors will be able to deliver extremely realistic source search/find training with response speed and characteristics when approaching and withdrawing from the simulation source.
This level of hands-on training enables students to test their understanding of crucial radiation response measures, such as personal dose, shielding, time, distance, and inverse square law.
Real experience training also empowers students to more confidently interpret readings on their devices, understand the significance of any changes in the units of measurement, and accurately relay their findings to those higher up the chain of command (without turning to their instructor for help).
Safety, cost, and efficiency are all crucial to consider when running a CBRNe radiation training scenario. One of the main goals for instructors, however, is to ensure that their students learn how to properly respond to an array of events.
The best way to achieve this is to expose students to a variety of realistic, repeatable scenarios in various locations and weather conditions, which is exactly what real experience training offers.
To learn more about radiation simulation training, including how electronic simulators are revolutionising CBRNe radiation training and which equipment is required for live incident radiation detection, download the free Argon Radiation Safety eBook.