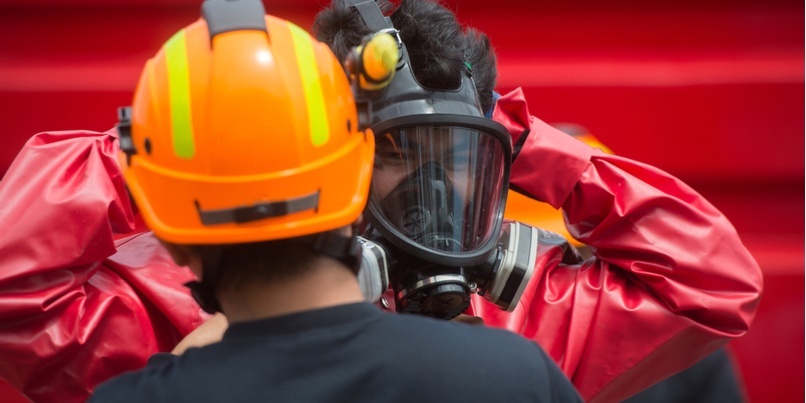 Providing first responders and senior management with access to high quality, realistic and regular HazMat safety training opportunities is crucial in ensuring that they are thoroughly equipped to handle any real-world response, whatever the context.
The vital importance of wide-area HazMat emergency preparedness was brought into sharp focus in two recent toxic chemical incidents on both sides of the Atlantic in August 2017.
On August 31 in the US town of Crosby, Texas, floodwaters caused by tropical storm Harvey led to a power shutdown at a chemical plant, which resulted in a series of small explosions and the release of what the Federal Emergency Management Agency (FEMA) described as "a hazardous smoke plume."
A 1.5 mile exclusion zone was placed around the plant, and while evacuation of residents immediately outside the exclusion zone was not mandatory, the Texas commission on environmental quality urged local residents to stay inside, keep windows and doors closed and to limit physical activity.
Meanwhile on the South Coast of the UK, an unidentified chemical plume swept over the seaside area of Beachy Head over the August Bank Holiday weekend, resulting in more than 150 beachgoers requiring hospital treatment for symptoms ranging from streaming eyes and burning throats to vomiting and respiratory problems.
Toxic plumes have the potential to drift significant distances, as was evidenced in January 2013, when a foul-smelling gas cloud that originated in Rouen, France, prompted thousands of calls to the emergency services all across England's South Coast and as far north as South-East London.
Fortunately these types of wide-area public emergency HazMat incidents are fairly rare. But they do highlight the crucial importance for first response teams and management to have hands-on training to handle unexpected chemical hazard events with speed, confidence and efficiency.
The challenge for HazMat safety training instructors, who are responsible for creating wide-area training exercises, is in being able to implement realistic scenarios in real-life settings that are one hundred percent safe for the trainees, the general public and the environment.
As environmental regulations restrict the dispersal of chemical simulants, an obvious solution for the creation of HazMat safety training scenarios lies in the use of electronic simulator systems that can simulate multiple types of chemical hazard with zero environmental impact.
Ideally too, any wide-area instrumented training solution needs to be highly personalised in its delivery, enabling the exercise planner to define the environmental conditions and to select the parameters for the activation of simulation instruments, which could include the type of threat and the release of single or multiple sources.
Wide area instrumented training systems, such as that provided by Argon's PlumeSIM-SMART technology, can play a vital role in the training of multiple personnel for chemical HazMat incidents in any location, whether it be a public area, an industrial facility, a CBRNe school or a military training centre.
The PlumeSIM-SMART system is portable, quick to set up and straight-forward to use and exercises can be planned on a PC or laptop without the need for additional system hardware. It is easy to create simple and flexible scenarios that can be based upon single or multiple chemical warfare agent (CWA) or HazMat releases. The system's table-top mode also ensures participants can be thoroughly familiarized in the classroom setting before any actual hands-on exercise begins.
The processes and decisions made as the result of a real-life HazMat incident can carry profound consequences, so it is vital that the training assesses every response component, from the deployment of survey teams through to those with command responsibility.
To this end, the inclusion of built in After Action Review (AAR) maximises learning opportunities for the trainees through the capture of a full record of "player" movement and simulator activity which can then be conveyed to an independent moderator to assess the learning outcomes.
The provision of life-like training scenarios that incorporate the use of wide-area instrumented training solutions can be an invaluable teaching tool in empowering first responders to develop their situational awareness, demonstrate their proficiency, identify strengths and weaknesses and develop coordinated action plans.