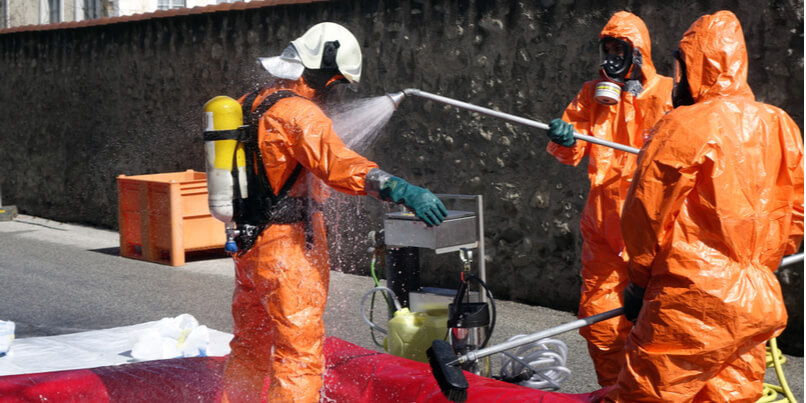 Chemical, biological, radiological or nuclear (CBRN) incidents, by their very nature, are deliberate and malicious acts designed to invoke harm or fear through an intentional attack or threat.
While such events remain thankfully rare, when they do occur there is the vital need for a robust and decisive response.
Finding appropriate methods to create suitably complex, demanding and life-like CBRN training scenarios in a safe, realistic and budget-friendly way can be a major challenge.
For those charged with CBRN instruction, it is important to be able to test their trainees' theoretical knowledge in as life-like an environment as possible - whether it is checking a student's ability to work confidently in protective clothing, ensuring they know how to apply safe work practices or that they are confident in handling their equipment for detection and decontamination.
Realistic training for live CBRN incidents
Live agent training (LAT) is often perceived as representing the pinnacle of CBRN training due to its highly realistic nature.
Indeed, as part of a wider training strategy, it is generally regarded as being the "only way" to fully prepare personnel for the operational challenges, stress levels and decision-making capabilities that they will require on the job.
At the same time though, there is also wide acceptance of the inherent limitations in successfully implementing LAT.
The costs alone of renting the use of an authorised live training facility can frequently put this form of training out of reach of many.
The challenges associated with delivering tailored on-site LAT can also make it difficult or near impossible to replicate the unique conditions of an organisation's specific areas of operation.
Maintaining safety of trainees, their trainers and the environment is another significant factor as instructors achieve their desired training outcomes while at the same time ensuring that they protect all those taking part.
Observance of Accepted Occupational Exposure Limits (OELs) will inevitably provide the basis of an LAT safety system but can also limit the repeatability of exercises due to the need to adhere to short term exposure level (STEL) limits.
Equally too, there is the raft of logistical considerations to take into account - whether it is the need to create a specially equipped hot zone, to manage the safe collection and disposal of chemical waste, or to ensure there is an effective process for monitoring and recording all training activities for after action review (AAR).
In situations where LAT is simply not a practical option, the introduction of simulator-based training can play a powerful role in bridging the divide between "make-believe" and "as real as it gets."
Achieving powerful learning outcomes with simulator-based training
Through the use of simulation devices, CBRN instructors are able to devise highly realistic, flexible and repeatable scenarios that pose zero safety risk to people, equipment, infrastructure or the environment.
From a chemical training perspective for example, there is the opportunity for students to train using Argon Electronics' simulators for the Smiths Detection LCD3.3, the Proengin S4PE surface sampler, the Bruker RAID-M 100 and the Environics ChemPro 100 / 100i.
In each case, the simulator that the student uses has been designed to look and behave exactly like the actual device - including having the identical menu structure and the same language support and simulating the effects of contamination, decontamination and persistency.
By replacing the use of live sources or simulants with safe and highly effective electronic sources the safety of personnel, the training area and the environment is always maintained.
Simulator-based training for chemical hazard detection
Simulator-based training is a powerful tool that enables first responders to prevent, prepare for, respond to and recover from the full spectrum of CBRN threats.
Through the use of simulation, trainees can be provided with exposure to "real-life" experiences which result in better knowledge retention, increased safety, reduced risk and greater proficiency in the handling of their equipment.
For instructors there is also the advantage of being able to devise and deliver complex and highly realistic scenarios that can be set up in a matter of minutes.
An instructor remote also provides an added level of control, enabling trainers to decide the effectiveness of decontamination drills, to simulate the effects of wind or temperature and to instantly reset the scenario to commence a new exercise.
If you would like to learn more about the applications of simulator-based training and how it can be integrated into your existing programme of instruction please contact a member of Argon's Business Development team.
We are currently offering live online product demonstrations where you can see our simulator tools in action.
You can also meet us in person at the upcoming CBRNe Summit USA 2021, CBRNe Convergence 2021 and CBRNe Summit Europe 2021.