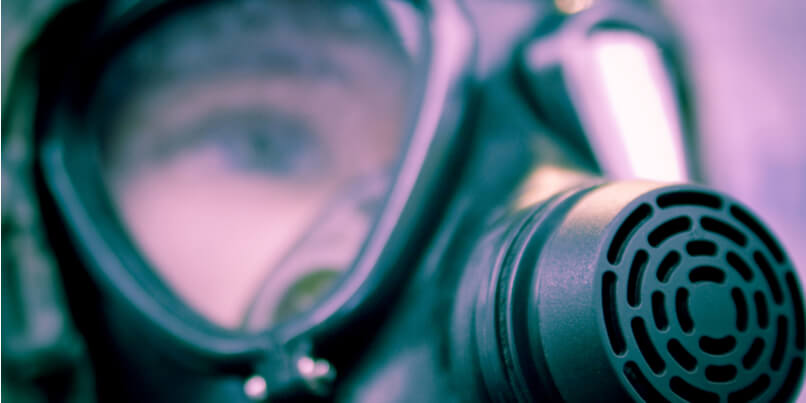 The ability to deliver realistic, engaging and safe Chemical Warfare Agent (CWA) training is a vital element of preparing service personnel for live experiences in the field.
Military crews, first response teams and hazardous materials (HazMat) personnel are regularly called on to lead responses in contaminated environments, and at significant personal risk.
In such scenarios, the nature and severity of the potential substances is often unknown, so Personal Protective Equipment (PPE) plays a vital role in ensuring individual safety.
PPE offers crucial safety benefits. However it also presents some key challenges - with the potential to impact on an individual's range of movement, manual dexterity, communication, visual acuity and sense of psychological well-being.
First-hand experience in combat environments
In August 2018, Argon Electronics welcomed retired Sergeant of the Royal Corp of Signals, Ian Foulkes, to our Luton office where he presented a workshop on his insights and experiences as a Nuclear, Biological, Chemical (NBC) instructor with the British Army.
In a career spanning nineteen years, Ian operated in a diverse range of immensely challenging environments all over the world - or as he aptly described it "in dusty places, hot places and freezing places."
In 1983, Ian was exposed to the nerve agent Sarin at the UK government's Porton Down defence research centre. And as he explained, it was this experience that spurred his interest in becoming an NBC instructor.
Ian began his presentation by firstly providing an overview of chemical warfare agents (CWAs).
He then moved on to present a practical demonstration of PPE, with an opportunity for all attendees to handle (and in many cases to physically try on) a vast array of protective equipment.
Personal Protective Equipment (PPE) in practice
With the assistance of an Argon staff-member who acted as 'model', Ian guided the group, step-by-step, through the process of donning a full set of protective clothing, designed for use in a desert combat environment.
Each item of equipment (trousers, jacket with hood, boot protectors, two layers of gloves and respirator mask) was instructed to be put on in a set order.
Careful attention was paid to the sealing of the cuffs and trouser legs of the suit. He also pointed out how important it was that the hood fitted securely over the top of the respirator and that the respirator mask itself had a complete seal with the wearer's face.
As our volunteer stood, fully kitted out in the 25 degree English summer heat, Ian then asked us to consider for a moment the physical and psychological effects that wearing such equipment might present.
Physical and psychological challenges of PPE
What was abundantly obvious (and was testified to by our volunteer) was that, while PPE apparatus offers necessary and life-saving protection, it also brings with it a variety of challenges that need to be carefully managed.
As Ian explained, there are the effects of heat stress, problems with restricted peripheral vision, reduced manual dexterity and significantly limited range of motion.
The challenges of psychological isolation, anxiety and the potential for claustrophobia were also identified as key stressors - and all of which have the potential to impact on task efficiency.
In scenarios where the highest level of PPE protection is required, it's clear that having the opportunity to train with this vital, life-saving equipment is going to be invaluable in preparing personnel for their live experiences in the field.
Ian Foulkes joined the Royal Corps of Signals in 1980. He trained at the Army Apprentices College in Harrogate and graduated in 1982.
He largely served overseas throughout his career, with postings in Germany, Ireland and Norway. Ian retired from the British Army in 1999, having reached the rank of Sergeant.