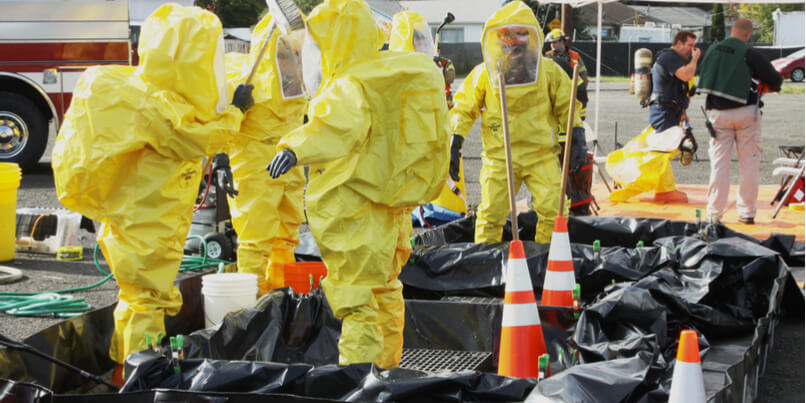 In recent blog posts we've discussed the significance of providing realistic training opportunities for military crews and first responders who are tasked with emergency hazmat response.
Alongside the importance for hands-on training using true-to-life simulator detectors, it is also vital for trainees to experience the wearing of their Personal Protective Equipment (PPE) in HazMat training scenarios if the full physiological effect of the scenario is to be experienced.
Personal protective equipment provides first responders with protection from potentially serious, and in some cases life-threatening, exposure to harmful chemical, biological or radiological hazards.
No single combination of PPE apparatus is effective against all forms of hazardous material, so it is a case of selecting the appropriate equipment for the unique characteristics of each hazmat incident.
Defining hazmat
A hazmat substance is defined as any solid, liquid or gas that poses a risk to living organisms or the environment.
The Globally Harmonized System (GHS) of Classification and Labelling of Chemicals divides hazardous materials into nine classes, based on their unique chemical characteristics.
The system includes explosives; flammable, non-flammable and poisonous gases; flammable liquids; flammable solids; oxidizing agents and organic peroxides; toxic and infectious substances; radioactive materials and corrosives.
Which PPE?
Personal protective equipment can be divided into four main categories, graded from Level A (the highest) to Level D (the lowest.)
1) Level A equipment provides the the highest level of protection for the respiratory system, skin, eyes and mucous membranes. It will typically be used in incidents where there is an extreme risk of chemical exposure such as when a permit is required to enter a site. Level A protection equipment includes a positive pressure (pressure demand) full-face self contained breathing apparatus (or a positive-pressure supplied air respirator with escape SCBA,) a fully encapsulating chemical protective suit, inner and outer chemical resistant gloves and steel-toe chemical resistant boots with shanks.

2) Level B equipment will be selected in the case of an initial site survey when a high degree of respiratory protection is required but where there is a lesser risk of skin or eye contamination. A typical level B ensemble includes SCBA apparatus, chemical resistant clothing, inner/outer chemical resistant gloves and steel-toe boots.
3) Level C protection is the most commonly used form of PPE and is required where the nature and concentration of the airborne chemical has already been identified, measured and contained and where there is unlikely to be risk of skin or eye exposure. The ensemble for a Level C incident comprises a full face or half mask with air-purifying respirator together with chemical resistant clothing, protective gloves and chemical resistant boots.
4) Level D clothing offers the lowest level of protection. It is primarily a work uniform which may comprise coveralls and/or safety boots which are designed to protect the wearer from harmless, nuisance contamination.
PPE in practice
While PPE apparatus provides essential protection in chemical emergency incidents, it also presents some inherent challenges and limitations, including:
restricted movement due to the weight of the additional equipment being carried

restricted vision due to visual field limitations, sometimes further restricted due to vision panel fogging

Restricted dexterity which can make instruments more challenging to operate

problems with communication (which can be partially overcome by the use of 2-way radios)

the risk of overheating or dehydration

psychological stressors due to the confining nature of the full suits
Crucially too, the equipment that offers the most highly protective form of protection, such as that used in Chemical Emergency Response, can only be worn for limited periods at a time.
Because of the physiological and psychological stressors associated with the use of PPE it's also essential to conduct a medical monitoring program of the participants which records weight, vital signs, recent medical history, hydration and appropriate decontamination at the conclusion of the incident.
Enhancing hazmat training
Training programs are also essential for hazmat teams to ensure they understand how to don the equipment, how to maintain and decontaminate it, how to recognize when the equipment has been compromised (due to tears in the suit for example) and when it is necessary to dispose of the apparatus.
Hands-on, realistic training is a proven and trusted method of ensuring hazmat crews and first responders are prepared and equipped to handle the unique characteristics of a wide range of chemical emergencies.
Any opportunity to gain first-hand experience of the unique physical and psychological effects of wearing personal protective equipment can only serve to enhance a trainee's learning outcomes.