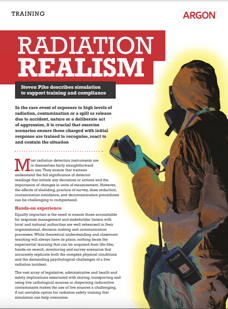 Steven Pike, the Managing Director of Argon Eletrocnis describes simulation in radiation training to support exercises and their compliance.

In the rare event of exposure to high levels of radiation, contamination or a spill or release due to accident, nature or a deliberate act of aggression, it is crucial that exercise scenarios in radiation training ensure those charged with initial response are trained to recognise, react to and contain the situation.

Dive into this quick read and learn about:

Radiation training scenarios
The types of nuclear accidents
How to replicate radiation
How to perform safe, cost-effective and efficient radiation training with simulators
→Fill out the form on the right to download the Radiation Realism Editorial.