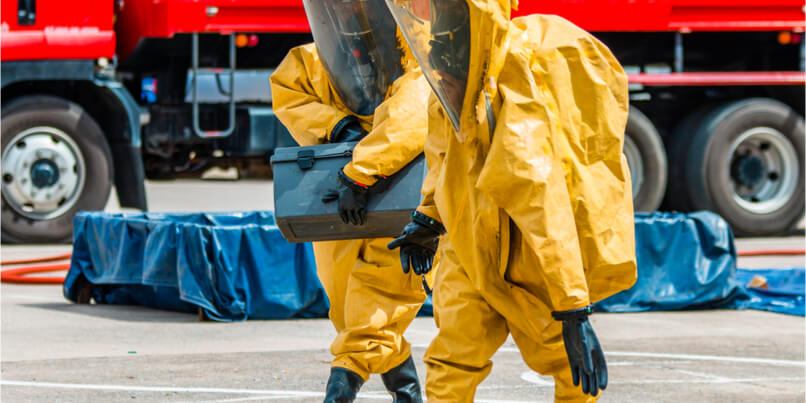 The threat of an accidental or deliberate release of a hazardous material (HazMat) or Chemical Warfare Agent (CWA) is increasingly being recognized as an acute global challenge.
In the event of an incident, swift detection and response is crucial. And the accuracy and quality of the information obtained - and how that information is communicated up the chain of command - is of paramount importance.
Key to effective response is ensuring that personnel are equipped to handle, read and interpret their detector equipment in hazardous and often highly stressful scenarios.
Innovative simulation tools can play a vital role in CWA or HazMat training. But what are the key questions to ask if you are considering purchasing, or upgrading, your simulator detector system?
1) How realistic is the training experience?
The information that is collected using actual detectors is used to make life saving decisions. So it's crucial that CBRNe training scenarios enable instructors to effectively exercise, challenge and prepare their personnel.
Chemical simulator equipment, for example, will need to be able to accurately replicate the features and functionality of actual detectors.
Radiological simulators should enable instructors to facilitate the teaching of survey, search, source recovery and radionuclide identification/decontamination procedures.
While biological simulation technology will need the capacity to be able to simulate a broad range of powder, liquid and airborne hazards.
2) How flexible is the technology?
As the frequency of hazards and hazard environments continues to grow, it's vital that simulators are able to provide integrated training across an ever-increasing range of technologies - be it ultrasound, electromagnetic, fluorescent or virtual modelling.
Some training scenarios may also benefit from customized interfaces to third-party military Ground Combat or First Responder Instrumented Training Systems.
3) What are the safety considerations?
The safety of personnel, public, infrastructure and environment is a crucial consideration when undertaking CBRNe or HazMat training scenarios.
There's no dispute that Live Agent Training (LAT) or Simulant Agent Training (SAT) each offer a high degree of realism.
But these methods can saturate the training area, and they are subject to stringent environmental restrictions and regulatory controls which can limit or restrict the dispersal of chemicals or simulants.
Simulator training, in contrast, utilizes intelligent, computer-based simulation technology to enable exercises to be undertaken in any location, at zero risk to people, property or the environment.
4) Will the equipment require ongoing maintenance?
Any equipment that requires regular calibration, preventative maintenance or the use of costly consumables is going to add a substantial financial and administrative burden which will increase the total cost of ownership (TCO).
Having equipment 'out of action' for any period of time can also significantly impede training opportunities.
Simulator detector equipment however, minimizes the TCO by removing the need for replacement of non-battery consumables or the requirement for any preventative maintenance.
Costly damage to actual detectors is also avoided which ensures constant operational readiness.
5) Are there alternatives to outright purchase of simulator detector equipment?
There may be some situations where the outright purchase of simulator detectors is simply not practical or appropriate - where equipment is needed for intermittent or one-off internal training scenarios; where additional simulation instruments are required; or when there is the need to demonstrate compliance to an external body.
In these types of scenarios, the option to rent equipment, rather that purchasing outright, may be the best solution to resolve a short-term need without having to resort to capital outlay.
When using rental equipment in exercises it will also be vital that your personnel are able to effectively and expertly deploy the simulation systems.
It may be useful to check whether your supplier offers (or can recommend) an exercise planning or facilitation service - whether that's support with system set-up or includes the option of a complete exercise management program.
Innovative simulator detector technologies have a crucial role to play in enhancing individual and collective training outcomes. Crucially too, they offer a realistic, safe and cost-effective training solution that enables military and civil organizations to deliver the most effective operational response in the event of a real emergency.