Argon Electron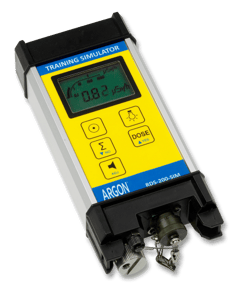 ics has delivered a range of radiological training simulators to Devon and Somerset Fire and Rescue Service.
The simulators will enable the service to improve the quality of their radiological exercises, using the training simulators for the RDS200 radiation meter and EPD-Mk2 to practice and enhance radiological survey techniques and exercises involving ionizing sources, such as road traffic accidents, Non Destructive Testing (NDT), source recovery and fires at facilities where radioactive sources may present an additional risk to those attending the incident.
Also supplied was the GPM-11-SIM simulation contamination probe, which responds to a range of safe, environmentally friendly contamination simulants and shall be used to add realism the fire service's contamination control and decontamination exercises.
Steven Pike, Argon's Managing Director stated:
"Devon and Somerset Fire and Somerset Fire and Rescue are the latest in a long line of UK first responders to invest in Argon's CBRN training systems. We are very proud to have contributed to the HazMat preparedness of the UK and overseas first responders."