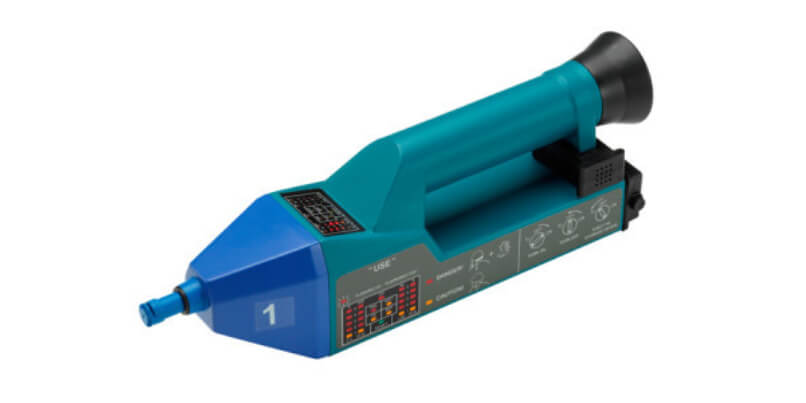 Competency in chemical hazard monitoring and detection is a fundamental requirement for first response personnel operating within the areas of civil defense, environmental protection and the military.
Providing trainees with the opportunity to experience realistic hands-on training is vital, but it is a goal that can often be difficult to achieve in the face of strict regulatory controls and safety considerations.
Frequently too, the desired outcomes of chemical hazard training will extend beyond the need to simply assess a trainee's ability to take a reading from a detector.
What is important is that personnel are provided with the skills they need to prepare themselves and their equipment, to accurately assess a scene, to carry out a methodical search, to correctly interpret the readings that they obtain and to communicate that information up the chain of command.
Realistic chemical training
Training with small quantities of chemical simulants can offer trainees a much-needed opportunity to experience the characteristics of live chemical incidents, however these same simulants can also pose a risk not just to the safety of personnel and the environment, but to the reliable operation of expensive detector equipment.
Simulator-based training offers a powerful solution to these common training challenges by removing the need for harmful chemical simulants and replacing the use of actual detectors with highly realistic simulator equivalents that look and function just like the real thing.
In using safe and environmentally friendly electronic sources, personnel are able to train in the detection of chemical vapours, TICs and false positives with zero safety risk.
And by training with equipment that replicates the appearance and functionality of actual detectors, there is the freedom to be able to make mistakes and to take away valuable lessons from those experiences.
The AP4C chemical hazard detector
The Proengin AP4C is a widely used portable chemical contamination control device that provides responders with simultaneous real-time detection of a vast array of Nerve, Blister, Blood and Vomiting agents as well as Toxic Industrial Compounds (TICs) and Toxic Industrial Materials (TIMs).
The detector uses powerful flame spectroscopy technology - a chemical agent detection method that analyses the light spectrum of a continuous stream of particles passing through a flame - to enable it to identify spectrochemical emissions of as little as a few parts per million, in real time.
While many chemical detectors rely on having access to a traditional library of chemicals, the AP4C has been designed to respond to any dangerous vapour, aerosol or dust particle that contains phosphorus, sulphur, arsenic or HNO bonds.
This means it can detect the presence of the types of impure, homemade or degraded agents that are often used in the carrying out of terrorist-based chemical attacks - and it also has the ability to detect any new chemical agents that may be developed in the future.
With the addition of the S4PE surface sampler, personnel are also able to confirm that all persistent liquids have been washed away, whether from casualties, the responders themselves or their equipment.
Train for real life with the AP4C-SIM
Argon Electronics' simulation training system for the Proengin AP4C - the AP4C-SIM - provides chemical instructors with the ability to set up exercises in as little as ten minutes, to conduct training in any environment (including public buildings) and to instantly reset their scenarios as they require.
The simulator realistically recreates CWAs, TICs and false positives as well as the effects of contamination, decontamination and persistency.
With the use of a simple instructor remote, instructors can retain complete control of the exercise by deciding the effectiveness of the decontamination drills and determining the remaining contamination.
Water can also be used for the purposes of decontamination exercises, which avoids the risk of costly damage to equipment and the environment.
The AP4C-SIM allows the simultaneous use of multiple detectors and multiple substances within the same scenario. It is also compatible with Argon's PlumeSIM wide-area training system to enable instructors to create their own bespoke tactical field exercises.
With the addition of Argon's training simulator for the Proengin S4PE surface sampler - the SP4E-SIM - trainees can also practice their detection of the types of persistent agents that exist in liquid or frozen form and which do not emit vapours at ambient temperatures.
If you would like to learn more about how you can implement the AP4C-SIM and SP4E-SIM training systems within your existing chemical hazard instruction programmes please contact the Argon Electronics team today to book a live product demonstration.