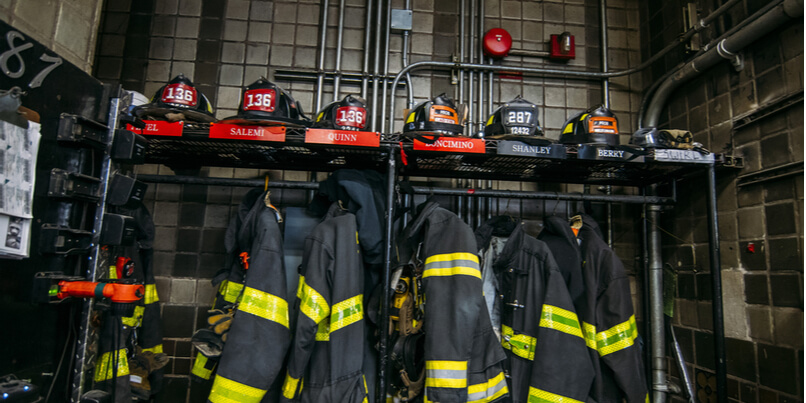 In the spring of 2021, the HazMat Guys invited Argon Electronics' North American Business Development Manager Bryan Sommers to join them in a podcast discussion where they talked about ongoing challenges in the provision of HazMat training and what new simulation technologies are bringing to the table.
In the podcast, which you can listen to in full here, Sommers provides an introduction to Argon's latest radiation simulation devices - the RadEye Sim and the RadSIM GS4 gamma radiation source.
The HazMat Guys' Mike Monaco also had the opportunity to get hands-on with Argon's training system ahead of the interview and he had this to say:
"Before we have people come on the show we always vet to see what the product is like. This is one of the products that I got to demo and I was so just blown away. It did everything that I as an instructor had to do."
As Sommers explains, it is the realism of the training devices that is the key to their success:
"RadSIM is a system that can be utilized in a diverse array of scenarios without any of the regulatory and administrative considerations that are normally associated with traditional source-based radiation training.
"With RadSIM, you can develop radiological survey exercises that deliver readings that trigger personal safety actions.
"That's just a dynamite thing to be able to demonstrate to people - when you see the look on their faces and they say, "Wow, this actually works!"
RadEye GF-10 SIM
Argon Electronics' RadEye GF-10 simulator has been designed to respond to RadSIM electromagnetic sources that safely simulate the effects of ionizing radiation. The simulator can be used indoors or outdoors in any location, while remaining free from all regulatory, environmental and health and safety concerns.
Key features include:
Interface components that are identical to those of the real detector (including display, indicators, switch panel, vibrator and sounder)
Response speed and characteristics that behave exactly as the real detector does when approaching or moving away from the simulation source
Simulated sensitivity that enables the simulator to detect the RadSIM GS4 simulation source at a free space distance of approximately 200 feet
Powerful proprietary signal processing which ensures simulated readings are repeatable each time the trainee revists the same scenario location
Simulation of the effects of user body shielding so survey teams can confidently and accurately interpret their detector readings and alarms
Inverse square law response that is within real detector tolerance
Selectable units of measurement (Sv/hr, Rem, CPS)
RadSIM GS4
The RadSIM GS4 Simulator provides a simulated gamma radiation source that is so believable it is "as real as it gets."
Instructors have the freedom to create a diverse array of search exercises while remaining free from all of the usual regulatory and administrative restrictions of working with live sources.
Key features of the RadSIM GS4 include:
The ability to create "live source" radiological survey exercises where survey teams can experience realistic dose rate and dose readings, inverse square law response and the shielding effects of different materials
Isotropic emission which enables the source to be detected at a distance of up to 200 feet when using a standard sensitivity simulation detector - or up to 300 feet free space if using a high sensitivity simulation detector
No preventative maintenance, calibration or consumables (aside from batteries) which keeps the whole life cost of ownership to a minimum
About the HazMat Guys
Bob Salveson and Mike Monaco, together with their team of HazMat experts, have assembled a vast array of podcasts, videos, forums, articles and photos which provide concise and easy accessible information about all aspects of hazardous materials response.
In 2020 they established the HazMat Guys e-University, an innovative online learning platform which features instruction and insights from leading HazMat professionals covering subjects as diverse as COVID-19 training, propane response, table top drills and chlorine bombs.
Bob Salveson's firefighting career began in 1994 when he joined the East Meadow Volunteer Fire Department. In 2000 he was hired by the FDNY and spent a short time in Ladder 159 before moving to Squad 288 after 9/11. In 2012 he transferred to the Hazardous Materials Command where he trained as Hazardous Materials Specialist. Bob is currently a member of the NY-TFI FEMA resource and Deputy Chief Instructor for the Nassau County Fire Service Academy .
Mike Monaco first joined the fire service in 1997 as a volunteer with the Mt. Sinai Fire Department. In 2002 he became a career firefighter with the FDNY, serving with Engine 233 for two years as well as qualifying as an Advanced Life Support (ALS) provider. In 2004 Mike moved on to HazMat Company 1 where he trained as a Hazardous Materials Technician. In 2012 he became a local instructor with the International Association of Firefighters (IAF) and has been an IAF Master Instructor since 2013.
Argon Electronics is delighted to have had the opportunity to share its latest simulation radiation training devices with The HazMat Guys.
We enjoyed showing the team the broad capabilities of our RadSIM GS4 and RadEye GF-10 SIM, but we also know that onboarding this new technology might be a challenge. With that in mind, Argon compiled an introductory guide to using simulators in radiation training. It's completely free and filled with information about the various ways first responders can utilise simulators like the ones featured on the podcast. Click below to download it now: