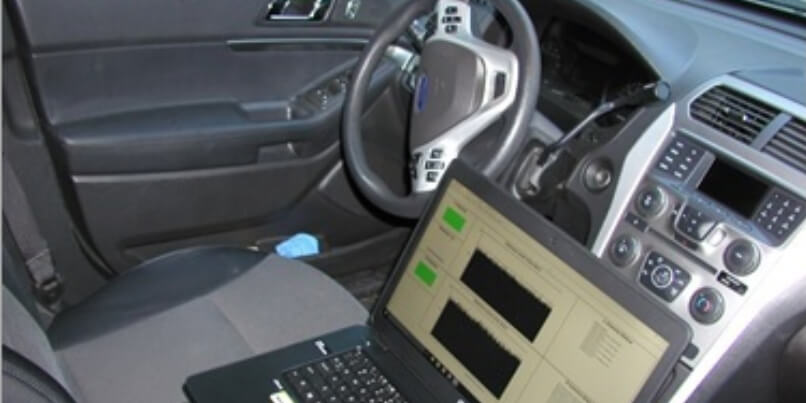 The detection, location and prevention of illicit transportation of radiological materials is a vital factor in safeguarding communities and protecting critical infrastructure.
For law enforcement and first responders, the use of mobile radiation detectors and radiation detection portals are essential tools for the fast and accurate screening of potential radiation sources.
A key priority when working with any form of radiation detection equipment is that the system is simple and intuitive to use.
At the same time however, it also needs to offer the necessary level of precision to provide reliable results in near real-time.
Mobile radiation detection systems
TerraTracker's range of Adaptable Radiation Area Monitor (ARAM) systems have been utilised by the US Department of Homeland Security (DHS) and local authorities in the New York/New Jersey region for many years.
The intuitive operation of TerraTracker's technology offers ease of use while at the same time providing instant, reliable, single-pass detection capability.
Providing a way for users to be able to train with these detection systems in realistic environments however, has presented a substantial challenge.
Radiological training challenges
In order for actual operational equipment to elicit a response, it requires the presence of a live radioactive source.
But working with even the smallest quantities of live sources necessitates an array of regulatory, administrative and Health and Safety considerations as well as limiting the locations in which realistic radiation-based exercises can take place.
Establishing confidence and trust in the validity of a detector's findings is near impossible to achieve when there is no opportunity to train with real operational equipment against actual live hazards.
What has become clear is that there is a need for a new approach to radiation training capability that enables operational systems to be used in training scenarios in a way that is both realistic and safe.
The Radiation Field Training Simulator (RaFTS)
One training system that is poised to revolutionise the provision of CBRN and HazMat radiation safety training, is the Radiation Field Training Simulator (RaFTS).
Initial development of RaFTS was carried out by the team at the Lawrence Livermore National Laboratory (LLNL), with subsequent enhancements being added by Argon Electronics as part of a cooperative research and development agreement (CRADA) in 2019.
The signing of an exclusive commercialization and distribution license by Argon and LLNL in August 2020 signalled the next phase in development, with the opportunity for detector manufacturers to partner with RaFTS.
RaFTS integration with the TerraTracker ARAM
RaFTS' powerful training capability has been successfully integrated within the TerraTracker Adaptable Radiation Area Monitor as a proof of concept which Argon and TerraTracker will now progress to a commercial product.
With a simple adaptation to the detector, RaFTS permits the required signalling to be injected directly into the ARAM, enabling trainees to experience radiological scenarios that are as real as it gets.
Personnel are able develop even greater confidence in the functionality of their equipment and to trust the veracity of the information that their detection systems provide.
Significantly too, the spectra that is generated by the RaFTS platform is so realistic, that it is possible for users to practice the entire cycle of detection during their training exercises.
A paradigm shift in radiological training
The provision of realistic, hands-on radiation training is a challenging but essential factor in preparing for incidents involving the illicit use of radiological materials.
With the help of the RaFTS simulation platform, there is now the opportunity for law enforcement and first responders to experience an even greater level of realistic radiation training capability which will foster user confidence, increase accuracy and enhance safety.
Argon Electronics is interested to hear from end-users and detector manufacturers who are interested to learn more about adding RaFTS capability to their training programmes or detector products.
Please feel free to get in touch with a member of our team for further information.