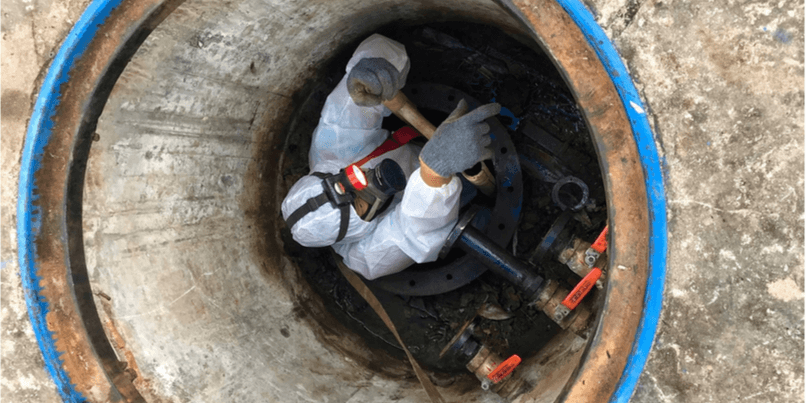 Monitoring the air for oxygen levels, toxins and combustibles is an essential skill in ensuring the health and safety of first response personnel when operating in confined space environments.
Often the risk posed by these types of spaces will be immediately obvious - such as when conducting a rescue within a storage tank, silo, sewer or enclosed drainage system.
Occasionally though, the risk may be less apparent - for example if working in an open-topped chamber or a poorly ventilated room.
Effective multi-gas detection
When operating within any type of confined space location, personnel will need to carry out a sufficient assessment of the risk by identifying the hazards present, ensuring the suitability of those carrying out the task and making arrangements for emergency rescue if required.
Having access to the correct detection equipment will also be crucial in preventing the risk of death or serious injury.
In some cases the threat within the environment may be a lack of oxygen - for example when there has been a reaction between certain soils and oxygen in the atmosphere, or where there has been the formation of rust inside a steel tank or vessel.
In other cases the hazard may be due to the emission of a poisonous gas, fume or vapour - whether as the result of a slow build-up over time, a sudden leakage, or a substance unexpectedly entering a tank or vessel via a connected pipe.
The use of a portable gas detector will provide the essential life-saving information which will determine whether a specified concentration of gas or vapor has been exceeded.
While many standard gas detector units have been designed to detect just one gas, there are also situations where it can be necessary to monitor the presence or concentration of multiple gases at one time with the use of a multi-gas detector.
What is key is that emergency crews are provided with sufficient training to ensure they can confidently operate their multi-gas monitoring equipment and that they are able to interpret the readings that they receive.
The use of a simulator multi-gas detector can offer a powerful training solution by enabling instructors to simulate all of the behaviour and responses of an actual detector in a highly realistic and completely safe environment.
So, if you are considering procuring a multi-gas simulator training system, what are some of the essential features to look out for?
1. A user-friendly interface
The controls on your simulator detector system should be simple to understand and intuitively obvious to operate.
Key points to consider will include:
That the display is representative of a typical detector and large enough to be easily read in low light conditions
That any audible alarms can be heard above the sound of loud background noise
That the equipment is easy to operate even when the user is wearing gloves or other personal protective equipment (PPE)
That the simulator is resistant to shock damage, extremes of temperature, radio frequency interference and the risk of tampering
2. Ease of configuration
Whether working in the context of a confined space exercise or a more extensive large-scale release, the option to be able to configure and personalise the exercise may well be key.
Questions to ask will include:
Whether it is possible to pre-set the number of gas sensors that the student sees?
That the instructor is able to stipulate the specific type of sensor that is being used (electro-chemical, PID, infrared etc.)?
That the screen layout of the detector replicates that of the fielded equipment?
That there are easily programmable alarm settings which enable instructors to simulate specific events as students move around the training area?
That there is the option for trainers to remotely observe and record their students' readings and activity.
There are many occasions where first responders and fire service workers can find themselves being called upon to conduct rescue efforts within a confined space environment.
Simulator training can offer a powerful and engaging way to prepare emergency response personnel for the realities of live incidents involving hazardous gases, chemicals or vapours.
The use of a purpose-designed multi-gas simulator detector can play an invaluable role in deepening trainee knowledge and building confidence so emergency crews can maintain their safety in the most demanding and unpredictable of settings.
If you would like to learn more about the applications of simulator detectors for your CBRNe or HazMat programmes of instruction please contact a member of the Argon Business Development Team to arrange a live product demonstration.