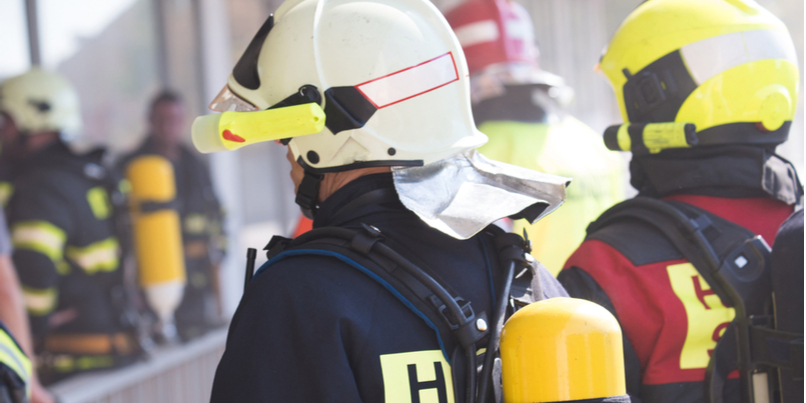 The rising prevalence of terrorist and CBRNe threats around the world is forcing fire services, and their personnel, to undergo some dramatic changes.
The traditional role of the firefighter is steadily evolving as they are increasingly being called upon to expand their core competencies and to hone their disaster preparedness skills.
Fires, accidents and rescues are now just part of the remit - with the increasing need to be able to respond to CBRNe events and to manage the command and control of major incidents.
The range of potential threats that firefighters may be required to handle is ever expanding - from the use of weaponised toxic industrial chemicals (TICs) or toxic industrial materials (TIMs) such as ammonia, chlorine or hydrogen cyanide (HCN); to low vapour pressure agents such as Sarin (GB) or the nerve agent VX.
Any delay in emergency service response has the potential to put lives at risk. And as modern day threats and emergencies become increasingly more complex, the provision of realistic, hands-on training is likely to have an ever more crucial role to play.
Understandably too, new responsibilities bring with them a raft of additional challenges.
UK CBRNe incident preparedness
More recently in the UK for example, there has been the publication of a report which scrutinised the standards within the nation's national fire services. One of the key findings of the report was that there was a lack of capacity within some regional forces in terms of their ability to effectively respond to certain forms of armed terror attack.
The report, which was conducted by Her Majesty's Inspectorate of Constabulary and Fire Service Rescues (HMICFRS), concluded that while there were many examples of excellent practice across the UK fire service, there was also a marked variation in the standards and consistency of different local services - inconsistencies that have proven to have a direct impact on the ability to provide specialist cover.
One local body that came in for specific scrutiny was the Greater Manchester Fire Rescue Service (GMFRS) - and in particular in relation to its response to the catastrophic events of the Manchester Arena bomb attack in May 2017.
One of the report's key findings was the fact that the GMFRS lacked the necessary personnel with the specialist training to enter the "warm zones" (or areas where terror activity has ceased but where risks still remain) in order to extract casualties.
In response to the report, the general secretary for the Fire Brigades Union stressed the importance of needing to put in place "much wider planning" to prepare for the unique challenges of certain types of terrorist incidents.
A spokesperson for the UK's Home Office also commented that the government was "aware of the concerns" around GMFRS and was working to pull together specialist teams that will be capable of providing "immediate response" to future events.
Training for modern CBRNe threats
As the roles and responsibilities of firefighters steadily evolve in response to modern day threats, the need for innovative enhanced CBRNe and HazMat training is ever more crucial.
The provision of more advanced education and training opportunities, for example, can have a vital role to play in ensuring personnel are able to complete faster and more agile on-scene threat assessment, detection and decontamination.
Ensuring that emergency teams have access to the right equipment will also be invaluable in supporting effective and confident response to any potential act of terror, major public incident or emerging threat.
Providing the opportunity to experience realistic hands-on training scenarios that safely and accurately replicate the environmental, physiological and psychological challenges of real-life terror threats is another key contributor to emergency preparedness.
Crucially too, the use of simulator detector technology is likely to continue to have a significant role to play in enhancing the efficacy of chemical hazard training - providing CBRNe instructors with not only the ability to realistically simulate the conditions of an actual attack but also with the reassurance of knowing that they are able to retain full control of the exercise from start to finish.
If you are interested to lear more about the value of simulator training for CBRNe incidents then you are welcome to download our eBook which provides practical insights and observations on the subject.