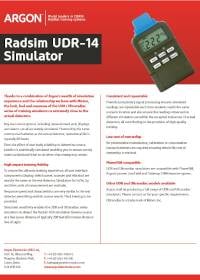 The UDR-14 radiation training simulator responds to Radsim electromagnetic sources that safely simulate ionizing radiation eliminating regulatory, environmental, and health and safety concerns for you and your students. You can use the simulation sources in the open or within buildings.
No preventative maintenance, calibration or consumables (except batteries) are
required ensuring whole life cost of ownership is minimal, expensive damage to real detectors is avoided and operational readiness is maintained.
Extremely realistic inverse square law response allows the powerful protective
combination of distance and shielding to be demonstrated enabling students to
practice communication of recommendations and safety procedures without the regulatory, safety, environmental and cost restrictions associated with real sources.
Key features:
Inverse square law (1/r2) response within real detector tolerance.
Simulation of user body shielding for source location.
Realistic representation of different shielding effects.
Optional units of measurement available (Gy/hr, Sv/hr, Rem, CPM).
Same human interface as real UDR-14.
Dose and dose rate alarm settings.
Same commercial batteries as real detector (80 hours operation).
No regular calibration.
No preventative maintenance.
Discover more about the UDR-14 Simulator by downloading the product sheet now. Fill out the form and get your free copy now.