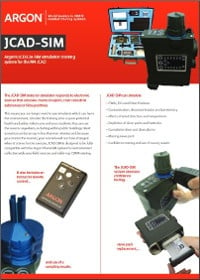 This high fidelity training aid / simulator for the Smiths Detection M4 JCAD is the ideal training solution for your CBRN / HazMat Exercises helping you to preserve your real JCAD detectors for operational readiness and reduce sieve pack consumption.
M4 JCAD-SIM responds to electronic sources that simulate chemical vapors, toxic industrial substances or false positives. You no longer need to use simulants which limit your exercise scope, can harm the environment, saturate the training area or pose potential health and safety risks to you and your students.
JCAD-SIM is designed to be fully compatible with the Argon PlumeSIM system for instrumented collective wide area field exercise and table-top CBRN training.
Key simulation features of the M4 JCAD Simulator are:
Nerve, Blister, Blood, Choking Agents, TICs and False Positives
Contamination, decontamination and persistency
Effect of wind direction and temperature
Depletion of sieve packs and batteries
User changeover of sieve pack
Cumulative dose and dose alarms
Missing Sieve pack
Attempted use with storage sieve pack
Confidence testing and use of survey nozzle
Very easy to set up CBRN / HazMat exercises and training scenarios
Compatible with

PlumeSIM
Discover more about the M4 JCAD Chemical Hazard Detection Simulator by downloading the product sheet now. Fill out the form and get your free copy now.