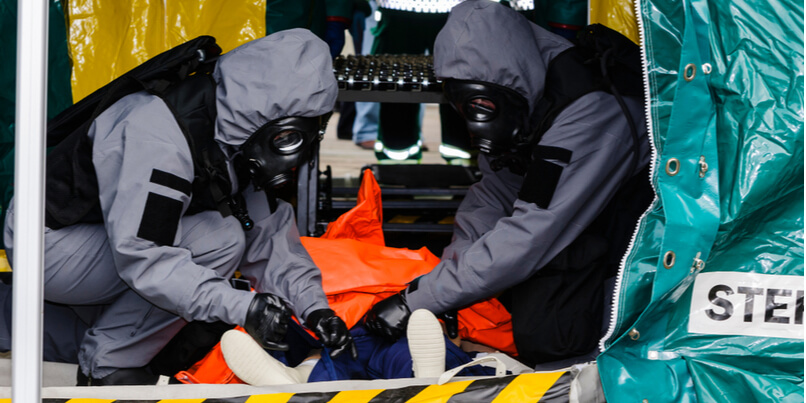 Note: This event has now been postponed until 23rd - 25th June 2020.
With many major cities across Europe falling victim to critical incidents in recent years, the threat of terrorism remains a high priority.
With this in mind, the upcoming 7th annual CBRNe Summit Europe Conference and Exhibition, which returns to Brno in the Czech Republic from 23rd - 25th June 2020, promises an invaluable opportunity to explore European CBRNe preparedness and capability.
This year's summit will explore a broad variety of topics currently impacting the CBRNe environment including military-civilian response to urban CBRNe incidents, first responder techniques, chemical-biological hazards, decontamination, asymmetrical threats, improvised explosive devices (IEDs) and CBRNe forensics.
CBRNe Summit Europe Speaker Line-Up
Days one and two will feature an extensive programme of presentations from industry experts who will include:
Colonel Vratislav Osvald - Director of the NATO Joint CBRN Centre of Excellence - who will provide the day one welcome address
Professor Roberto Mugavero - President of the the OSDIFE - who will moderate the session on medical countermeasures to nerve agent substances
Major Perry Read - Deputy Commander of the Colorado CBRNe Enhanced Response Force Package (CERFP), US Army
Zoran Sandev - Specialised Officer, Bioterrorism Prevention Unit, Interpol - who will discuss emerging CBRNe threats and the investigation of biological and chemical terrorism on the darknet
Jirina Valentova - Security and Defence Policy, Hybrid Threats Sector, European External Action Service (EEAS) - who will speak on CBRN capacity building
Inspector Mark Roberts - Emergency Planning Division, Police Service of Northern Ireland - who will discuss CBRNe response to major incidents in the urban environment
Bobby Baker - Senior Training Specialist with the US Counter Terrorism Division, US Department of Energy - who will speak on the US approach to risk management of asymmetrical threats
Jon Hall - Managing Director of QFSM Ltd and Director of the Resilience Advisors Network - who will provide an overview of UK agency cooperation in the wake of the Salisbury nerve agent incident
Dr Olga Vybornova - who will explore military-civil cooperation between NATO Joint CBRN Defence and the EU HORIZON 2020 eNOTICE Project
CBRNe Summit Europe live demo and exercise
The Šumavská Barracks at the Brno University of Defence will play host to a live demonstration and exercise, led jointly by a Sampling and Identification of Biological, Chemical and Radiological Agents (SIBCRA) team and the 31st CBRN Defence Regiment.
The exercise will focus on the investigation of an illegal laboratory where CBRN agents are suspected to be present, with a crucial outcome of the mission being to ensure that the integrity of samples is maintained from initial collection through to final analysis.
Following a welcome address from the University of Defence, observers will be able to observe the collection of samples, the surveying of a building and a demonstration of the preparation, packaging and transporting of evidence for further investigation.
CBRNe Summit Europe Exhibition
The summit's vibrant exhibition will provide the opportunity for delegates to view the latest array of technology used in the support of contamination avoidance, monitoring and control, reconnaissance, search and survey training.
Argon Electronics' extensive portfolio of simulator training systems will be on show, including its new offering, the MultiGAS-SIM, simulators for the Smiths LCD3.2e and LCD3.3, the Proengin AP4C, the Mirion/Canberra RDS100, PDR77 and RDS200 and the Thermo FH40G and EPD Mk2.
Argon's training solutions are used by multiple organisations and agencies around the world to enhance the realism, authenticity and learning outcomes of a diverse array of CBRNe and HazMat scenarios.
If you have any specific questions about the application of simulators for radiation safety or chemical hazard detection training then please stop by Argon's booth during the exhibition.
If you would like to discuss your training needs in more detail then you can also contact us prior to the event to arrange a set time for a meeting.
Plan your visit to CBRNe Summit Europe 2020
When: ****NEW DATES - 23rd - 25th June****
Where: Best Western Premier Hotel International Brno, Husova 200/16, 602 00, Czech Republic
Why attend?: Discuss the latest CBRNe threats facing Europe, hear expert analysis of recent major incidents, network with leading CBRNe vendors
Programme of Events: further detail of the summit programme is available on the intelligence-sec.com website
Tickets: Delegates can purchase tickets for the combined conference, exhibition and exercise or for any combination of events