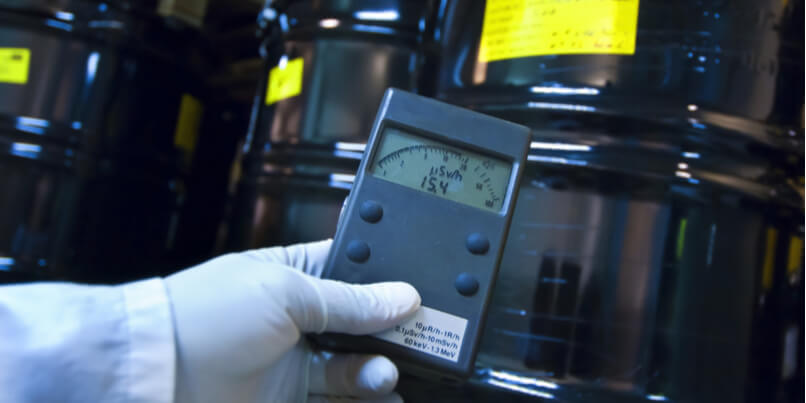 Radiation safety training has a crucial role to play in ensuring effective response to any radiological incident, whether it be large or small, accidental or deliberate.
When dealing with live radiation incidents, CBRNe personnel and first responders rely on two essential items of equipment to enable them to monitor radiation dose and their individual dose rate - a survey meter and a personal dosimeter.
While these pieces of instrumentation are both fairly straightforward to use, the challenge for CBRNe instructors is to be able to provide trainees with the chance to test their practical knowledge of their detectors in the context of realistic training exercises.
It's also vital that trainees understand the full significance of any detector readings which may initiate decisions, and that they are comfortable with changes of units in measurement, shielding, survey, contamination avoidance and decontamination procedures.
Unlike other types of safety training scenarios where simulants or live sources can be used to simulate a specific threat, there is no alternative to radiation that can replicate a reading on an actual unmodified radiation detector. So what options exist that can enable users to experience every operational feature of an actual detector in as realistic a setting as possible?
In this blog post we explore the unique features of survey meters and personal dosimeters and offer suggestions for suitable replacements which can be used to create an authentic trainee experience when undertaking radiation safety training exercises.
Radiation Survey Meters
A radiation survey meter (such as the Mirion RDS-200) is a portable, battery-powered radiation detector used to assess personnel, equipment and facilities for radioactive contamination. Its universal use and durability means it is well suited to a wide range of applications within the military, civil defense, industrial and laboratory use. The device typically features an easily readable display, gives an audible indication of the ionizing radiation count or dose rate and is programmed to emit an alarm warning when a predetermined rate of radiation counts (or dose) has been reached.
Personal Dosimeters
A personal dosimeter (such as the Thermo EPD Mk2) is a hand-held device that measures an individual's cumulative dose of ionizing radiation and is programmed to set off alarms at preset thresholds. A dosimeter measures the Hp (10) dose (the depth dose of deep organs) and the Hp(0.07) dose (the estimated skin dose) and an audible alarm (or chirp rate) increases with the rate of radiation intensity. Personal dosimeters can be worn to obtain a whole body dose and there are also specialist types of dosimeter that can be attached to the fingers or clipped to headgear to measure localized irradiation.
Safe alternatives for realistic radiation safety training
An electronic radiation simulator is a vital item of CBRNe radiation safety equipment that enables personnel to thoroughly prepare for real-life radiation incidents with zero risk of exposure to ionizing radiation. It does this through utilizing intelligent computer/microcomputer simulation tools that replicate every operational feature of a real detector but which respond to safe electronic sources that simulate a radiation threat.
Well-designed simulators enhance the training experience by providing an authentic training environment, enabling exercises to be carried out in any location and in any weather condition and freeing instructors from any regulatory, environmental or Health and Safety concerns. The devices are compatible with other key instrumentation such as beta or gamma probes and can also work with other hand-held, virtual, tabletop or app-based training systems to enable a variety of wide-area tactical field and nuclear emergency response exercises.
Alongside the practical advantages for learning, working with electronic simulators can offer significant time-saving advantages for CBRNe instructors as they remove the administrative effort that is normally required when handling, transporting and deploying simulants. Electronic simulators also require no costly preventive maintenance or recalibration and there is no risk of unnecessary and expensive damage to actual detectors.
Electronic radiation simulators have a vital role to play in ensuring radiation safety and preparedness for the military and first responders, providing the opportunity for realistic hands-on learning experiences using replica detector equipment.
Radiation training scenarios that focus on applied learning techniques can empower trainees to be able to understand the significance of their readings, to recognise crucial changes in units of measurement and to relay their findings further up the chain of command.
To learn more about how to effectively set up these training scenarios, and best practices for training response to incidents involving radiation, download our free guide.