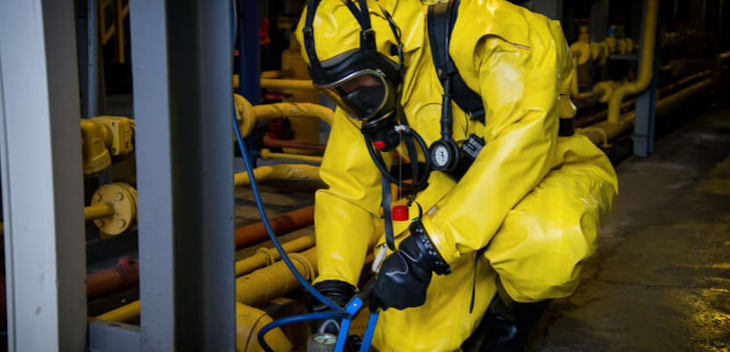 Training is an essential aspect of preparing radiation professionals for the realities of live radiological incidents, whether they are operating in the field of first response, law enforcement, customs and border control or the military.
While much of the essential theoretical and regulatory information can be conveyed in the classroom setting, there is also the vital need to exercise, hone and verify that knowledge through hands-on training.
Balancing theory and practice
Understanding the theoretical principles of radiation risk and protection is an integral aspect of radiological preparedness.
But developing the ability to anticipate the unexpected, and to take appropriate action based on the information obtained, is something that can really only be achieved through exposure to "real-life" training scenarios.
Finding ways to test core radiological knowledge in a way that is sufficiently realistic, but that is also safe, is often easier said than done.
If working with live sources, for example, there is the need to adhere to stringent regulatory, administrative and Health and Safety procedures that can make training problematic, impractical or near impossible to deliver.
So what other options can radiological instructors employ if they are eager to create a realistic training environment that will safely replicate the highly demanding nature of radiological response?
Life-like radiological sources
The use of a safe simulated "live" radiological source is one approach that is gaining increasing leverage in a wide variety of radiological training environments from military CBRN to HazMat and first response.
When weighing up the benefits of incorporating a simulated source into your existing program of instruction there will of course be some key questions to consider.
Will the simulation source help you to create a sufficiently realistic training environment?
Will it enable your trainees to truly suspend disbelief and buy into the "realism" of the exercise?
Will the use of a simulated "live source" help your students test their understanding of core radiological principles?
What is the environmental impact of the training?
And what are the cost implications when compared with other training methods?
Radsim GS4 Radiation Training Simulator
Argon Electronics' development of the Radsim series of highly realistic simulation gamma radiological sources has set out to address and resolve the key challenges that most commonly arise in the delivery of practical, hands-on radiation training.
Firstly there is the impressive degree of realism that the Radsim simulation sources can provide.
Using Radsim, trainees are able to practice and hone core skills such as their interpretation of dose rate and dose readings, their understanding of the principles of inverse square law and the importance of shielding for personal dose reduction.
Then there is the crucial matter of consistency.
When using the Radsim source, trainees can be reassured that they are achieving consistent readings across all their instruments every time they revisit the same exercise location. And once trainees are able to trust in the readings they receive, they can then further cement their understanding and build even greater confidence.
Having the opportunity to experience the differences in response sensitivity and characteristics across a range of detector instruments is another crucial aspect of radiological training.
With the near isotropic emission of the Radsim sources, trainees are able to detect a radiological source at a distance of up to 200 feet (60 meters) free space if using a standard sensitivity simulation detector - or a distance of up to 300 feet (90 meters) free space if using a high sensitivity simulation detector.
The diversity and versatility of potential radiological exercise scenarios is another significant consideration.
The potential range of scenarios that Radsim sources can offer is limited only by the imagination of the instructor.
Ten simulated activity levels make it possible to customize a diverse array of scenarios in literally any location and without any administrative, regulatory or safety concerns.
Ease of set up is another key factor.
By simply concealing the simulation source within the trunk of a vehicle for example, instructors can instantly create an impressive scenario in which their trainees can detect a radiological source at a distance of up to 33 feet.
Similar shielding effects can also be applied by concealing the simulation source in a metal object such as a filing cabinet or refrigerator, or by placing it on a specific level of a multi-floor building where students can then obtain readings through the ceiling, floor or walls.
Finally too, there is the cost-effectiveness of the use of simulation source. If using an actual live radiological source, the associated effort and expense of administration, compliance, transportation, registration and safe disposal can quickly mount up.
With Radsim sources, all issues concerning storage, transportation and deployment are instantly eliminated, leaving the instructor free to focus on the core task of delivering realistic and high-quality radiation training.
If you would like to learn more about Argon Electronics' Radsim GS4 simulator and the benefits that it can offer your existing program of radiological instruction please get in touch with a member of the Argon team.