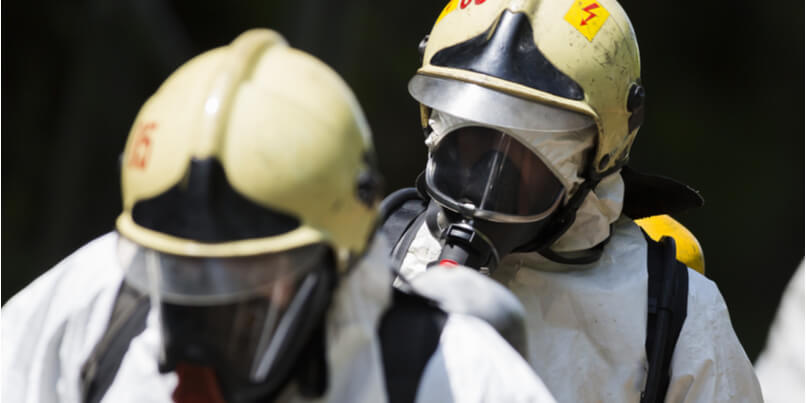 Chemical, biological, radiological and nuclear (CBRNe) threats are constantly evolving and can present some significant challenges for those charged with security and first response.
The efficient, successful resolution of any incident relies on the capacity for emergency teams to quickly evaluate a scene - and to do so in the midst of what will often be a complex, demanding and hazardous environment.
CBRNe training exercises can vary in their scope, duration and form - from table-top exercises where simulated crisis response plans can be discussed in a less formal and low-stress environment - to large-scale, live exercises involving many hundreds of participants.
The value of live CBRNe exercises
Whatever the training goal, when trainees are provided with the opportunity to test the practical application of their theoretical skills, there have been shown to be some clear advantages:
Better learning outcomes - the ability to retain knowledge has been demonstrated to increase from approximately 20% , when lessons are conducted in a passive lecture environment, to more than 75% when learning takes place in an active hands-on environment.
Higher engagement - the inclusion of practical tasks has been shown to stimulate the appetite for learning and to develop students' critical thinking skills.
Increased familiarity with equipment - hands-on activities enable students to gain proficiency and confidence in handling the tools that they will be required to use in real-life incidents.
Every year the North Atlantic Treaty Organisation (NATO) conducts many hundreds of national and multi-national live exercises all over the world. Each event focuses on either maritime, land or air operations and is designed to test a specific function or skill - be it cyber security, logistics, crisis response decision-making or CBRNe defence.
In the UK, multi-agency exercises are regularly undertaken to test response to a wide of simulated terrorist attacks and to enable the emergency services, government and civilian organisations to practice and plan for a wide variety of potential terrorist incidents.
In November 2018, for example, Westcott, Buckinghamshire played host to a one-day live activity test that simulated a major CBRNe incident involving hazardous materials.
With the involvement of more than 500 attendees from 40 different agencies (including representatives from the police, fire, ambulance, government and the private sector) the exercise was the largest exercise of its kind to take place in the UK that year.
Commenting on the outcomes of the event, Thames Valley Police Deputy Chief Constable and the UK's national CBRN lead for policing, John Campbell, explained:
"Sadly our country is no stranger to terrorism and it is vital that we are prepared to respond if the worst happens.
"Day to day our efforts are focused on prevention and disruption of these threats but on the rare occasion that an attack happens we need to be able to minimise the impact, protect the public from further harm and provide the necessary help and support to those affected.
"Exercising is a key part of [UK] preparedness for any major incident and we test in extreme circumstances to ensure that our combined capabilities match whatever situation we could face."
Upcoming live CBRNe training events in 2019
High threat exercise - CBRNe Convergence, Nashville, November 5, 2019
For those attending the CBRNe Convergence in Nashville later this year, there will be the opportunity to participate in a pre-congress high threat exercise led by Gareth Roberts and Hugh Williams-Jones from the South Wales Police Welsh Extremist and Counter Terrorism Unit.
Both Roberts and Williams-Jones have extensive hands-on experience of UK counter-terrorism investigations.
The upcoming workshop will comprise both a classroom teaching component and a hands-on training activity, with the attendees being split into two groups in order to gain equal access to both elements of the training.
The practical element of the workshop will be conducted at an off-site Explosive Ordnance Disposal (EOD) training centre, hosted by Training Pros/EOD Gear. The groups will be further divided into smaller units, with each having the opportunity to understand the skills and to experience the sophistication of the tools that will be required to execute their mission.
Live exercise - CBRN Summit, Geneva, November 11-12, 2019
The Geneva CBRN Summit and Live Exercise will bring together leading security professionals and industry experts in an exploration of current CBRNe threats, and technology for detection, verification and decontamination of hazardous materials.
Live exercises have an invaluable role to play in CBRNe training - providing a practical training ground in which to test trainees' equipment, tactics and procedures, to fine-tune best practice and to identify any gaps or limitations in proficiency.
If you are interested to know how intelligent simulator detector technology can enhance the realism of your CBRNe training programme then download our free Guide to Procurement.