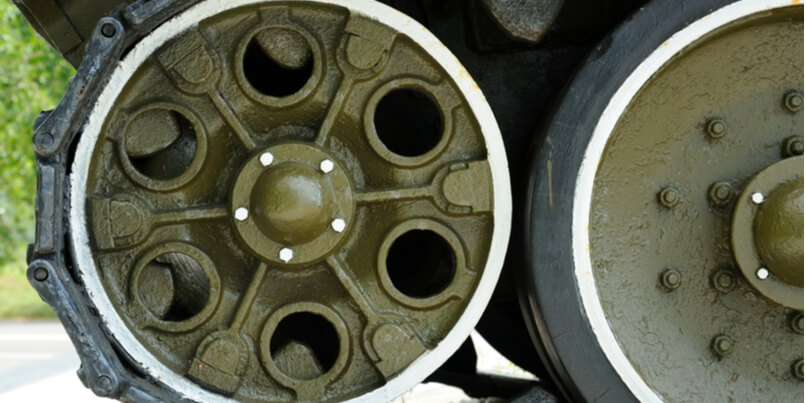 Military organisations worldwide face the ongoing challenge of training against a multitude of emerging, complex and increasingly unpredictable chemical, biological, radiological and nuclear (CBRN) threats.
Effective and cohesive CBRN response relies on substantial planning and preparation that takes into account the wide variety of detection, response and recovery phases of an incident.

The full scale and potential effects of a terrorist CBRN incident however, can often be difficult to predict.
In some cases it may be possible to draw on knowledge of previous terrorist attack patterns in order to plan a coordinated response.
But increasingly there is the prospect of personnel being confronted with new hazards that may not have been encountered before.
The addition of other independent factors - be it people, infrastructure or weather conditions - can also make it even more challenging to determine the nature, origin or potential consequences of a CBRN threat.
Often too, the seriousness and scale of some CBRN emergencies can require a combined approach, with the need for multiple units and specialist teams to be able to work closely alongside each other in order to resolve the situation.
The seamlessness with which different organisations are able to come together to pool their resources, to share key knowledge and to delegate responsibilities has never been more crucial.
CBRN tactics, training and readiness
In recent years, the conducting of live demonstrations has become an increasingly popular element of many CBRN exhibitions and events.
Live exercises provide an opportunity for CBRN professionals from the full spectrum of global security and incident response to observe and critique the latest developments in CBRN defence technology and procedures.
For those participating in the demonstration there is also the opportunity to test their skills against life-like hazards in real-time conditions, to familiarise with new tactical situations and to deepen their understanding of their individual role in delivering an effective and unified response.
To ensure that maximum benefit is gained from these types of live demonstrations however, it has become increasingly desirable that the tools that are used are as flexible and scalable as possible - and that they are able to be deployed in any environment.
Additionally, having the option to be able to integrate CBRN capability within an organisation's existing simulator detector equipment has become a vital prerequisite in maximising the effectiveness of training outcomes.
Effective CBRN decision-making in real-time conditions
New computer software interfaces such as Argon Electronics' PlumeSim Application Programme Interface (API) have made it possible for users of the combined arms combat simulator Steel Beasts Pro to utilise core CBRN exercise capability within their existing virtual and live simulated detection instruments.
Similarly, a next generation version of the PlumeSIM interface has also been integrated into Saab's Gamer live training system and was successfully demonstrated in a live exercise at the tenth international live training symposium, Levels of Fidelity.
As the global CBRN threat continues to evolve, so too does the need to consider new approaches to risk assessment, tactics, training, preparedness and interoperability.
Increasingly too there is the demand for evermore sophisticated, high-fidelity and affordable training tools.
Computer simulations and intelligent simulator detector systems can have a vital part to play in CBRN defence - be it in augmenting existing training programmes, in enhancing Live Training capability or in injecting a heightened degree of realism into live exercises.
Live CBRN demonstrations also continue to prove their worth in providing a highly realistic platform on which to test and observe the latest developments in technological and doctrinal procedures.
CBRN exercises are hugely effective in improving the detection, verification and decontamination of hazardous materials and in helping to reinforce the benefits of inter-agency interoperability at all levels.
In incorporating CBRN live training capability into an organisation's existing simulator detector equipment there is now an even greater opportunity to replicate the characteristics and complexities of a CBRN incident under real-time conditions - with zero personal risk, regulatory restrictions or environmental impact.