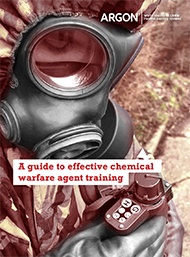 Chemical defense plays a vital role in protecting people and countries from the devastating effects of chemical attacks.
It establishes the protective actions to be take in situations where chemical hazards may be present.
Within both military and non-military agencies, chemical warfare agent training provides individuals with the technical knowledge and practical expertise to detect and, as appropriate to the mission, avoid, protect themselves or carry out decontamination against chemical threats and make appropriate recommendations to relevant parties.
Therefore, it is crucial that training scenarios can realistically replicate the situations that individuals might face in the future – whether in the context of warfare, a terrorist incident, or another scenario.
In this eBook, we will explore the 3 key types of CWA training and their relative merits:
Live agent training
Simulant agent training
Simulation training
To discover how each CWA training approach can be best employed and their relative merits, complete the form and receive your copy now.