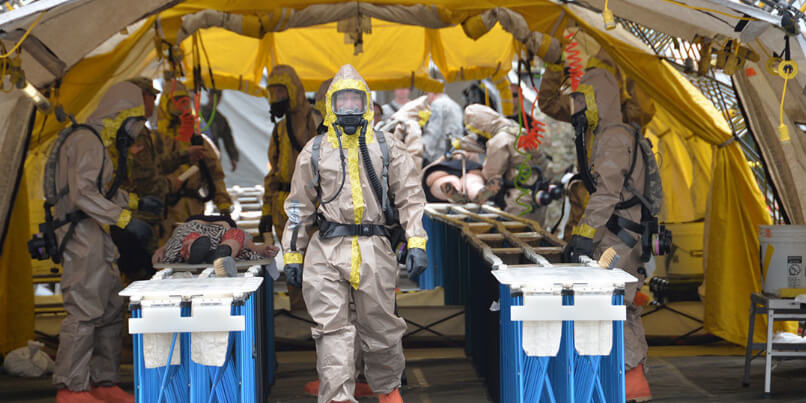 Since 2004, the US National Guard's Chemical, Biological, Radiological, Nuclear and Explosive (CBRNe) Enhanced Response Force Package (CERFP) has proven itself to be an indispensable tool in helping to protect people, property and infrastructure from the effects of hazardous materials incidents.
A crucial strength of the CERFP initiative has been the way in which it has enabled the country's existing national guard units to seamlessly integrate with civilian emergency response teams at both federal and local level.
The CBRNe Enhanced Response Force Package
At its inception, twelve CERFP teams were created - ten of which covered the region destinations of the Federal Emergency Management Agency (FEMA) and a further two of which were allocated to the US east and west coasts.
Two years' later that coverage was further expanded to include a total of seventeen teams nationwide - each consisting of 200+ personnel and all trained to civilian standards set out by the Occupational Safety and Health Administration (OSHA) and the the National Fire Protection Association (NFPA).
Training for emergency management and disaster response
From a hazardous material (HazMat) incident training standpoint, it has been critical to ensure that personnel are skilled in the fundamentals that will support and sustain their operations - from knowing how to interpret hazardous materials markings to understanding the chemical and physical properties of hazardous substances, creating effective emergency response plans and putting those plans into action.
A primary contributor to success has been the ease with which army personnel have been able to integrate within a disaster response scenario that is led by civilian responders.
What has also been key is that soldiers are trained to the same standards as their civilian response counterparts to ensure they are able to successfully merge within any existing incident command system (ICS).
The value of collaborative training exercises
Collective Training Exercises (CTE's) have proven that they can provide an invaluable training ground for army personnel and civilian response teams to test their joint capabilities, improve their skill sets and experience how the other operates.
Following a Hawaii Air National Guard training exercise in 2016, US Air Force Lt. Col. James Faumuina observed:
"As it turns out having a Defense Support to Civilian Authority mission like CERF-P requires the military members to have mirror civilian responder qualifications.
"You get to experience how the Army does business [and] we all work towards one common goal which is to accomplish the mission."
Similarly, a 2019 CERFP training programme that was staged for a select group of soldiers and airmen of the Oregon National Guard was invaluable in expanding its participants knowledge.
Feedback from those who took part - all of whom were looking to join CERFP teams - focused on the value of networking, of being exposed to how other teams operate and of strengthening the core skills that are needed when encountering hazardous materials incidents.
Enhancing CERF-P training outcomes
While classroom time will always remain a core component of hazardous materials and CBRNe training, there is much to be gained by reinforcing students' theoretical knowledge with the opportunity for practical hands-on experience.
The staging of realistic training scenarios has been shown to be pivotal in helping to cement the fundamentals of CBRNe and HazMat - be it in knowing how to don and use Personal Protective Equipment (PPE), how to set up and operate detector instruments, how to interpret the readings that are obtained and how to communicate that key information up the chain of command.
Working with actual detectors for training purposes has proven to be problematic at best - and in many cases is nigh on impossible.
There are the health and safety considerations associated with the use live sources, the accompanying administrative burden of deploying such substances and the risk of damage to expensive detector equipment which can compromise operational readiness.
If actual detector equipment is replaced with simulator detector instruments however, then the possibilities are enormous - providing instructors with the opportunity to create realistic, high-quality and and highly-engaging training scenarios that replicate real life conditions.
There will of course be essential requirements that any form of simulator detector technology will need to be able to fulfill.
Maintaining authenticity by replicating the look, feel and functionality of the detector will be vital.
Ensuring that the training system provides value for money over its lifetime will also be key.
If there are additional costs or repeatable expenses that need to be accounted for, for example, are these outweighed by the risk and associated expense of the wear-and-tear of actual detectors?
What is certain though, is that integrating simulator detectors into CBRNe and HazMat training programmes can offer substantial benefits for both trainees and their trainers.
If you are interested to learn more about how simulation technology can enhance your training outcomes then please register for one of our upcoming live product demonstrations where Bryan Sommers (SGM U.S. Army, Ret) will explain the applications and the possibilities that the technology can offer.
Photo Credit: COL Richard Goldenberg, NYARNG