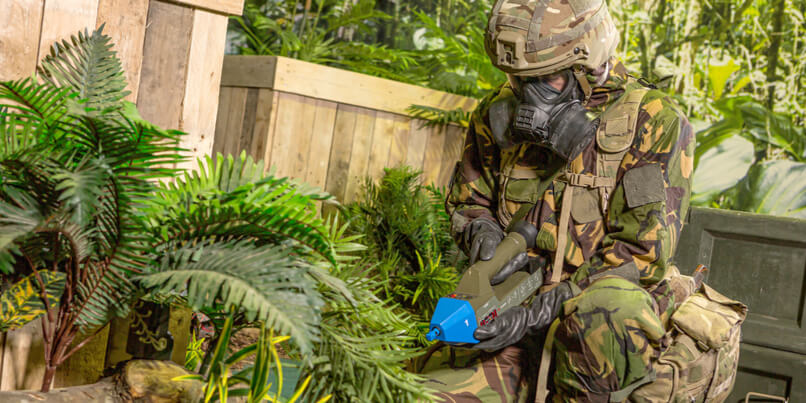 Preparing for the possibility of a chemical, biological, radiological or nuclear (CBRN) attack on British soil is something that has taken a back seat over the last couple of decades, with the UK's military efforts being largely focused on CBRN concerns in the Arab Gulf and Syria.
But as David Oliver outlined in an article for the Chemical, Biological and Nuclear Warfare magazine CBNW earlier this year, that focus had to be rapidly redirected in March 2018 in response to the Novichok nerve agent attack in Salisbury, Wiltshire.
The UK's counter-CBRN response
As the severity of the Salisbury incident quickly became apparent, hundreds of military personnel from the British Army and Royal Air Force (RAF) were brought in to take control of the surrounding area and to remove material, under the direction of the Department for Environment, Food and Rural Affairs (DEFRA).
In addition, thirty-two members of the British Army's mounted counter-CBRN unit, the Falcon Area Survey and Reconnaissance Squadron, were called on to provide CBRN-specific expertise and tactical support.
At the time, the Falcon Squadron's unit comprised a team of just 70 and their fleet of 6x6 Fuchs TPz CBRN reconnaissance vehicles was known to be rapidly approaching obsolescence.
What the Salisbury incident demonstrated was just how important it is to maintain the highest-quality, UK-based CBRN expertise, training and equipment - and to ensure that the UK military is prepared and appropriately protected against the full range of CBRN threats.
In March 2018, the UK's Defence Secretary Gavin Williamson announced a £48m investment in a new Chemical Weapons Defence Centre located at the Defence Science and Technology Laboratory (Dstl) at Porton Down.
One of the pivotal CBRN training events to result from this investment was Exercise Toxic Dagger - the UK's largest-ever chemical warfare training exercise of its kind - which took place on Salisbury Plain just eight weeks after the Novichok attack.
The launch of Exercise Toxic Dagger
Exercise Toxic Dagger offered an unprecedented CBRN training opportunity for the UK's armed forces.
Over the course of the three-week programme, 40 Commando Royal Marines participated in a vast array of scenarios designed to test their abilities in detecting, assessing and mitigating CBRN threats.
The highly realistic exercises were devised by CBRN specialists from the Dstl and the Atomic Weapons Establishment (AWE) - including a range of Company-level attacks, comprising typical CBRN hazards, and a full-scale casualty treatment exercise.
Subsequent to the Salisbury incident, the Royal Marines 45 Commando has now also established Zulu Company - a specialist CBRN unit whose sole focus is the training and maintaining of chemical warfare skills.
The company continues to refresh its CBRN skills at the UK's specialist training centre at Westdown Camp on Salisbury Plain where the team takes part in a rigorous programme of classroom learning and hands-on exercises.
Hands-on chemical warfare training
A crucial aspect of practical CBRN-based training is having the opportunity to test and refresh operational skills in realistic scenarios that mirror the challenges and the unpredictability of real-life incidents.
Importantly too, it is vital that trainees are competent and confident in the use of their operational equipment.
The Smiths Detection LCD3.3, for example, is one of the most widely deployed chemical detection devices used by the armed forces to aid in the detection of chemical warfare agents (CWAs) and Toxic Industrial Chemicals (TICs.)
As CBRN instructors know all too well though, incorporating the use of actual chemical detector equipment into training exercises can be problematic.
Even in cases where the smallest of quantities of chemical simulants are used, a training area can quickly become saturated and can pose a risk to both personnel and the environment.
In addition, the set-up time for such exercises can be onerous, the locations in which exercises can be safely conducted is tightly regulated, and the operational readiness of actual detectors can frequently be compromised.
These operational challenges can easily be averted however if actual detector equipment is replaced with a high-fidelity simulator detector.
The benefits of simulator-based training
By replacing the LCD3.3 with its simulator equivalent, instructors can quickly and safely create realistic chemical scenarios that mimic the effects of chemical vapours, TICs and false positives and that accurately simulate contamination, decontamination and persistency.
Hands-on training is a vital aspect of CBRN preparedness - and providing CBRN teams with the opportunity to experience simulator tools that replicate their actual operational equipment is key to the success of that training.
If you are interested to learn how simulators can enhance your existing CBRN programme of instruction, please contact a member of the Argon team for further information.
You can also register for one of our regular online webinars where you can see our range of simulator detectors being demonstrated by CBRN expert Bryan Sommers.