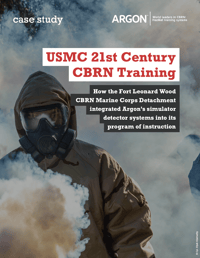 Proficiency in chemical hazard detection is a crucial aspect of CBRN reconnaissance and decontamination training for the US Marine Corps.
But being able to provide trainees with realistic training that reflects the physical and psychological complexities of real-world chemical hazard scenarios has always presented its challenges.
Traditional training methods can often lack authenticity, they can place limitations on the locations in which scenarios can be conducted and they can add a substantial administrative, regulatory, and Health and Safety consideration.

In this case study Chief Warrant Officer 5 Christopher Joy, former Commander of the CBRN Instruction Company Marine Corps Detachment at Fort Leonard Wood, explains how the introduction of simulator detector technology enriched the CBRN training experience so effectively it lead to the complete rewriting of the centre's Program of Instruction (POI).
Read this fascinating case study and learn how easily your CBRN training facility could replicate this success.