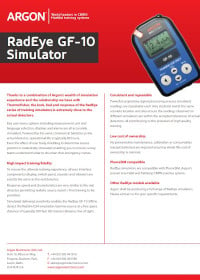 The RadEye GF 10 SIM responds to Radsim electromagnetic sources that safely simulate ionizing radiation. The simulator enables you to create scenarios inside buildings and outdoors with very realistic simulation of the shielding effects of different materials.
Powerful proprietary signal processing ensures simulated readings are repeatable each time students revisit the same scenario location.
Even the effect of user body shielding to determine source position is realistically simulated so you can be certain your survey teams understand how to use and interpret their detector readings and alarms effectively.
RadEye simulators are compatible with PlumeSIM, Argon's proven Live Field and Tabletop CBRN exercise system. In use by many of the world's leading training facilities, PlumeSIM enables real time instrumented wide area tactical field and nuclear / HazMat / Chemical Warfare emergency response exercises to be conducted using single or multiple simulation device types that respond in the real time to simulated hazards.
Key simulation features of the RadEye GF-10 Simulator are:
Inverse square law (1/r2) response within real detector tolerance.
Simulation of user body shielding for source location.
Realistic representation of different shielding effects.
Selectable units of measurement (Sv/hr, Rem, CPS).
Same human interface as real RadEye.
Configurable menu settings.
Dose and dose rate alarm settings.
Language selection.
Same commercial batteries as real detector (80 hours operation).
No regular calibration.
No preventative maintenance.
Discover more about the RadEye GF-10 Simulator by downloading the product sheet now. Fill out the form and get your free copy now.