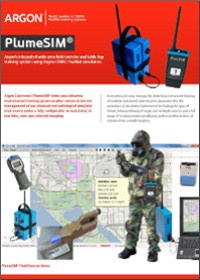 PlumeSIM® is a wide-area instrumented CBRN / HazMat training system providing management of simulated chemical and radiological incidents and control of associated simulators that respond to a wide variety of user defined scenarios in real time complete with powerful after action review to ensure effective learning outcomes.
PlumeSIM enables training of multiple personnel, allowing instructors to select the parameters for the activation of CBRN / HazMat releases (including the type of threat, release/delivery of single and multiple sources and a full range of environmental conditions.) PlumeSIM also records the actions of trainees to support powerful After Action Reviews.
Key features of the PlumeSIM are:
Portable and very quick to set up and use
Planning mode: prepare and test scenarios on a PC / Laptop without system hardware
Simple, flexible scenario creation based upon single or multiple CWA, HazMat & radiological releases
User-defined environmental conditions
Real-time variation of plume due to wind direction changes
GIS mapping and "home made" map support - simulate remote locations on your local training ground.
Perfect for counter terrorism exercises, nuclear and HazMat emergency exercises
Simulation of plumes, deposition and hot spots
Table top classroom mode for pre-exercise familiarisation
Modular system enables you to expand as and when budgets permit
Real time trainee movement and instrument usage reporting, with recording for After Action Review
Supports

M4 JCAD-SIM,

CAMSIM,

AP2C-SIM,

AP4C-SIM,

RDS200-SIM,

EPD-Mk2-SIM,

AN/PDR-77-/VDR-2 / RDS100-SIM, SAM940 / RIIDEye Spectrometer Simulator and more
Radiological or chemical / HazMat only version available with future upgrade option
Discover more about the PlumeSIM by downloading the product sheet now. Fill out the form and get your free copy now.