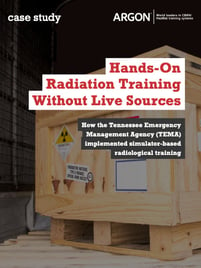 As the reliance on the use of radioactive materials in medicine, industry and agriculture has continued to grow, so too has the awareness of ensuring their safe transportation, handling and disposal.

For those working in a first responder capacity, there is also the increased risk of encountering an incident or emergency that involves some form of radioactive hazard.
Among the programs offered by TEMA is the Modular Emergency Radiological Response Team (MERRTT) program which provides responders with a practical, hands-on introduction to the fundamentals of radioactive materials, the use of radiological survey instrumentation and the techniques required for decontamination.
In this case study we speak to, Ken Cochran, who is a Radiological Specialist for the Tennessee Emergency Management Agency (TEMA) who describes how the introduction of simulator-based technology enriched and enhanced the agency's hands-on training capability; preparing trainees for any scenario including an intentional act of violence.
Download the case study today to learn how you might be able to replicate TEMA's success in your own organisation. Complete the form and get your own copy of the case study delivered to your inbox today.