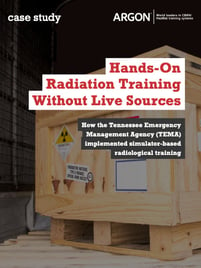 In this case study, Ken Cochran, Radiological Specialist for the Tennessee Emergency Management Agency (TEMA) explains how the introduction of Argon's simulator-based technology enriched the agency's hands-on training capability by enhancing the ability for trainees to actually "see" the manner in which radiation behaves and to experience the ease with which it can be successfully detected.
Argon's DT616-SIM Beta Gamma simulator probe and simulation sources have become vital equipment for TEMA in preparing trainees for any intentional act of violence.
Download the case study today to discover the benefits of integrating Argon's simulator detector systems into an existing CBRN programme of instruction:
Enrich the CBRN training experience
Increase student learning, knowledge and retention
Ease the process for instructors
Improve student engagement and training
Provide valuable time and cost savings
Fill out the form and receive your copy of the case study now.