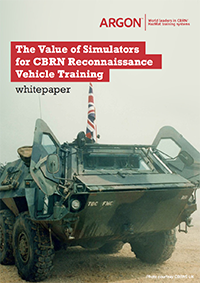 CBRN reconnaissance vehicles have an invaluable role to play in confirming the presence of CBRN hazards and relaying that information to the command structure to support vital decision-making.
This whitepaper explores options to implement a simulation capability for class room and field based training. We also consider how such systems facilitate commander, crew and hazard prediction training using different approaches to suit a range of budgets.
We examine each option against a variety of key factors which include:
The use of replicated instrumentation versus virtual instruments
The installation required
The use of training detectors
The realism of the training experience
The cost of acquisition
The ongoing cost of ownership
Discover more about how our solutions can enhance your CBRN reconnaissance vehicle training. Fill out the form and get your free copy now.