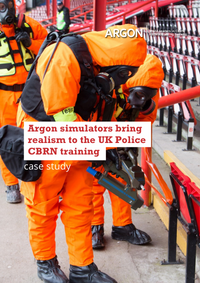 Argon Electronics' range of CBRN / HazMat response training simulators have received high praise from the Police National CBRN Centre.

In this case study, Paul Lacey from the Avon and Somerset Constabulary Headquarters recounts his impressions of an innovative training exercise at the Bristol City Football Club in which local police were tasked with managing a suspected chemical terrorism threat.

The inventory for the exercise comprised a variety of CBRN training simulators including Argon's PlumeSIM system which enables a single instructor to configure simulated chemical and radiological releases across a wide area.

As Lacey explains, "With electronic simulation equipment, trainees can realistically carry out their roles without risk of harm to themselves, other participants, their equipment or the environment.

"People learn better from practical training and that's why simulators are so good. You're not only training physically, gaining familiarity with equipment, but also emotionally and coping with the reactions to a frightening scene.

"Staging an exercise like this with Argon electronic simulators is the nearest we can get to reality. Nothing else we can do can get close."
Download the case study to find out more about chemical simulator training for the police service.
Fill out the form and receive your copy now.