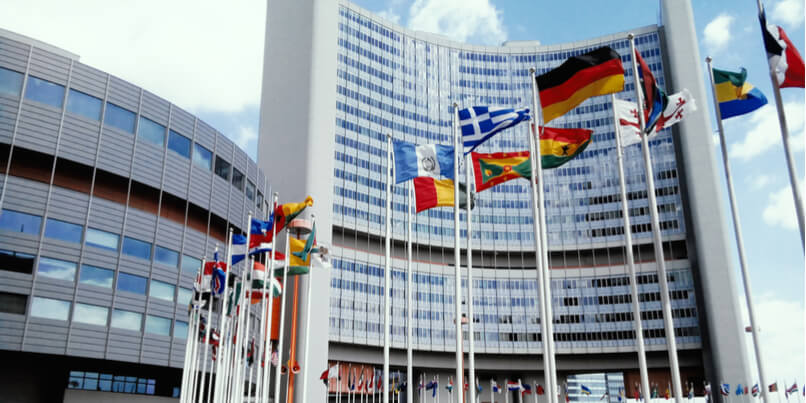 Argon Electronics will be exhibiting our wide range of award-winning electronic simulator training systems at a variety of high-profile international CBRNe and HazMat exhibitions throughout 2018.
In this blog post we provide an overview of where and when you can meet us and our representatives, what you'll be able to see, and how you can schedule an appointment for a more detailed discussion with a member of our team.
DefExpo India
When: April 11th to 14th, 2018

Where: Arulmigu Nithyakalyana Perumal Temple, Chennai, India

DefExpo 2018 is the tenth in a series of biennial Land, Naval and International Homeland Security Systems exhibitions.

Together with Strongfield Technologies, Argon Electronics will be exhibiting a wide range of CBRN training systems that replicate detection equipment currently used by the India Armed Forces.

Simulator equipment on display will include:

Please get in touch if you'd like to arrange a time for a one-to-one meeting to discuss your requirements.

IAEA 2nd Technical Meeting
When: April 16th - 20th, 2018
Where: IAEA Headquarters, Vienna, Austria
The 2018 International Atomic Energy Agency (IAEA) 2nd Technical Meeting will focus on the subject of trends, challenges and opportunities of radiation detection instruments for nuclear security.
Attendees will have the opportunity to view a wide range of Argon's radiological training systems which cover contamination monitoring and control, point source, dispersion/fallout, spectrometry, dosimetry, surveying and dose management.
If you have any questions about radiation or chemical hazard detection using electronic simulators then please feel free to stop by our stand during the exhibition. Or you can get in touch before the event to book an appointment with a member of our team.
SRP Annual Conference
When: May 1st - 3rd, 2018
Where: Southport Theatre & Convention Centre, Southport, UK
The implementation of revised radiation protection legislation (including the Basic Safety Standards (BSS) Directive) offers an ideal opportunity to reflect on what has (and hasn't) worked and what the future of radiation protection holds.
Join us at the Society for Radiological Protection (SRP) Annual Conference, where we'll be exhibiting simulators for the Mirion RDS200 and ADM300A radiation meter, Radsim DS3 Mini 900, Thermo FH40G andEDP-Mk2 simulators and Argon's new App-based training system PlumeSIM-SMART.
Please stop by our booth to discuss how we can assist you with any questions regarding radiation and chemical hazard detection training using simulators.
Or if you'd like to speak with us about any specific queries then please contact us to book a time for a meeting.
Hazmat Exhibition
When: May 23rd - 24th, 2018
Where: Crowne Plaza, Stratford-Upon-Avon, UK
The National Chemical Emergency Centre (NCEC) Hazmat Conference is well established as a must-attend event for HazMat professionals looking to share experiences, knowledge and technological innovation.
Argon's environmentally friendly simulators are used by many agencies worldwide including London Fire, the Fire Department of New York, the UK Police CBRN Centre and the UK CBRN Defence Centre.
Please drop by our stand where you can see examples of electronic simulators for the Mirion RDS200 radiation meter, Smiths LCD3.3 and Proengin AP4C, together with demonstrations of the App-based tabletop and field-based offsite release system PlumeSIM-SMART.
And if you'd like to arrange a specific time to meet with us then please get in touch to book an appointment.
CBRN Exhibition
When: June 25th - 27th, 2018
Where: Nutter Field House, Fort Leonard Wood, Missouri, USA
The annual CBRN Exhibition at Fort Leonard Wood will bring together leading CBRN professionals, governmental representatives and academics.
Argon Electronics will be displaying our award-winning instrumented CBRNe exercise systems PlumeSIM and PlumeSIM-SMART, together with examples of our simulators for the Smiths Detection M4 JCAD and M4A1 JCAD, and simulator probes for the Canberra / Mirion/AN/PDR-77, AN/VDR-2 and RDS100.
We're looking forward to meeting customers and friends at this premier event, so please do stop by our stand to say hello. Or if you'd like to book some time for a more detailed discussion please contact us to arrange a meeting.
NCT Europe
When: July 3rd - 5th, 2018
Where: National Training Centre, Vught, The Netherlands
The eighth edition of the highly successful NCT event series will be taking place at the National Training Centre (NTC) in Vught this July. The three-day event will include a variety of multination CBRN exercises, workshops and indoor/outdoor displays.
Argon Electronics will be in attendance, with the opportunity to see examples of a wide range of our electronic training systems including PlumeSIM, PlumeSIM-SMART and the Environics Chempro 100i, the Thermo FH40G and the EPD Mk2.
2018 is shaping up to a busy year for Argon Electronics and we look forward to meeting you at one of these upcoming events.