The process of detecting, identifying and monitoring hazardous materials can present significant challenges for emergency response personnel.
Having access to the right equipment is just one piece of the puzzle. Responders also need to understand the capabilities, applications and limitations of every detection tool that they may be called upon to use.
Also of vital importance is that they know how to make effective use of that equipment in what can often be hazardous, challenging and high-pressure environments.
While regulations are in place to guide CBRNe and HazMat training requirements, there is evidence to suggest that many first response personnel don't consider themselves sufficiently skilled in the use of their detector equipment.
The use of innovative simulator detector systems can significantly increase personnel safety, enhance the learning experience, provide instructors with improved training outcomes and reduce detection equipment whole life cost of ownership.
This eBook includes: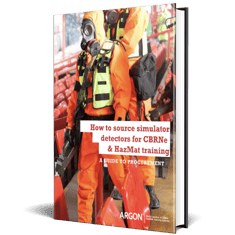 Fill out the form now to receive your free copy delivered directly to your email inbox.